Disaster Restoration in Waldorf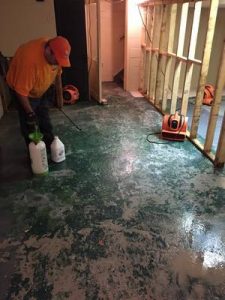 If you're a home or business owner and have recently experienced a disaster, you can stay calm knowing you have access to the services of our disaster restoration team at 911 Restoration of Southern Maryland.
Our company is licensed, insured, bonded, and available 24/7/365 to assist you with water extraction at all hours of the day and night, arriving at your property within 45 minutes of receiving your call. Give us a call at 240-813-1810.
Our disaster restoration pros in Waldorf have many years of experience conducting restoration services. We have mitigated roof leaks, fire damage, pipe bursts, plumbing issues, sewage cleanup, and many other disasters.
Through our state-of-the-art water removal technology and cutting-edge drying equipment, our pros are able to conduct comprehensive remediation services, such as:
Water extraction and drying
Fungus and mold infestation decontamination
Mold spore testing services
Mildew deodorization
Black water cleanup
Toilet overflow sanitization
Deodorization services
Smoke stain cleanup and odor removal
Cleanup of tar and ash residue
Overall comprehensive disaster restoration
Our technicians working for storm restoration in Waldorf are IICRC certified and are equipped to handle a wide variety of disasters, so call 911 Restoration today at 240-813-1810!
Disaster Restoration is our Job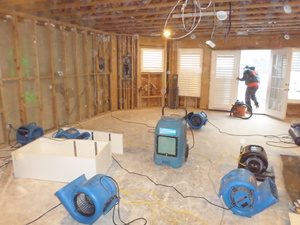 Our technicians understand that your property is exposed to a variety of weather conditions on a daily basis that can have an effect on your home's overall structural integrity.
Increased moisture in the home can lead to mold infestation. All mold spores need is 24 hours and water so they can thrive on your property. That's why it is so important to call our disaster restoration techs as soon as you notice a leak.
Not only do our disaster restoration experts in Waldorf have many years of experience eradicating mold and water damage, but we are also equipped to remediate any sewage issues.
To extract grey and black water from your home or business, our team will use comprehensive equipment such as eco-friendly cleaning agents, wet vacs, dehumidifiers, and air movers.
Call our 911 water damage experts staff when you need the most thorough and extensive disaster restoration services in the area, and our technicians will be at your property to assist you as soon as possible. We are available at all times of the day and night, you can contact us at 240-813-1810.
We Are Here To Assist You With All Your Disaster Renovations
Being surprised by a water disaster is never a fun moment, but our experts are here to make this process as easy as possible.
After our professionals arrive on the scene, we want you to just sit back and relax as much as you can while our team takes over every part of the remediation process.
We will assist you with the financial aspects of the job, too, including going over your insurance policy to figuring out what your coverage includes.
Our technicians will also file your insurance claim for you. And if for some reason your issue is not covered by insurance, you can rest assured that we always offer the most affordable prices in the industry.
Call our agents at 240-813-1810 as soon as you notice any signs of disaster damage in your home, and the specialists at 911 Restoration of Southern Maryland will make sure you get the fresh start you deserve.