Water Damage And Mold Removal in Lusby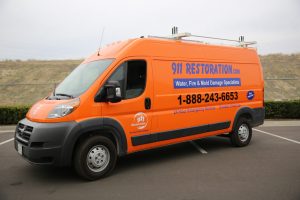 If you need water damage restoration in Lusby, you need 911 Restoration of Southern Maryland. 
The flood cleanup crew at 911 Restoration are ready and waiting to respond to your water emergency with the urgency it deserves. Whether you've been hit with a pipe burst in the middle of the night, you discovered a flooded basement on a holiday, or an ice dam crashed through your roof at noon on Tuesday, we're here for you. Call our water damage restoration crew any time and help will be at your door in 45 minutes or less, guaranteed.
The flood cleanup professions at 911 Restoration are IICRC certified, and the company itself is licensed, bonded, and insured. Every worker has been highly trained to manage all aspects of water damage restoration. This includes water extraction, structural drying, damage repairs, mold inspection, and mold remediation. 
Both residential and commercial properties are vulnerable to water damage in Lusby. Not only can no building anywhere escape the risks of run-of-the-mill pipe bursts and washer machine floods, but the local climate does little to keep homes and businesses dry. From winter blizzards to spring storms, there is always a risk of getting soaked in Southern Maryland.
Nevertheless, Lusby is a beautiful place to live and work, and our flood cleanup crew does all they can to get you back to your happy life with full-service, emergency water damage restoration. They take extra measures to make the process stress-free with a free insurance consultation, loss itemization assistance, claim filing, and billing your provider directly.
Even if it feels like you're in the midst of a full-blown disaster, the way out is clear. Contact 911 Restoration of Southern Maryland and get back on your feet faster than you thought possible.
Urgent Response To Your Water Damage Emergency
The flood cleanup experts at 911 Restoration lead with compassion. They recognize how overwhelming a water damage incident can be, and they recognize that every second lost is a second water is left to seep into the structure of your property and cause major damage. You can trust that when you call this water damage restoration crew, they take your emergency as seriously as if it were their own. They'll be on the scene in 45 minutes or less, and they won't waste an instant in commencing water extraction.
No matter what emergency service you need, these professionals have it covered. Roof repair, boarding up, storm repair, leak detection, sewage removal, packing out and storing your at-risk belongings…they do it all, and they do it fast. 
Your dedicated flood cleanup crew also takes every step necessary to ensure that today's disaster becomes a new beginning for your property. If there is any permanent damage done to your roof, carpet, ceiling, drywall, or any other structure of your property, they repair it, leaving your home or business in better-than-ever condition. They even concluded water damage restoration with a mold inspection and mold removal to be certain that today's water incident remains a thing of the past, with no lasting problems.
Your pipe burst or flooded basement is not the end of the world. With the right crew, it could actually be your Fresh Start. Just call 911 Restoration of Southern Maryland for the best flood cleanup in Lusby.
Certified Mold Remediation In Lusby
If anyone other than 911 Restoration handled your water damage emergency, be sure you received a thorough mold inspection and mold decontamination as well. Water damage almost inevitably leads to mold contamination, and if too much time goes by without proper mold removal, the damage to your property and your health can be devastating.
The water damage restoration experts at 911 Restoration are also mold remediation specialists. They understand all the behaviors and hiding places of mold, and you can count on their insightful mold inspection to reveal any hidden infestation you might have. 
Just as important, this crew is trained to recognize and treat the varying species of mold. This is significant because certain species are toxigenic, meaning they release mycotoxins that are harmful to human health when inhaled. A certified mold remediation specialist knows how to conduct mold removal without causing an extreme disruption, forcing the colony to release an excess of mycotoxins into the air. If you know you have an infestation, don't risk handling mold removal yourself. Not only are professional tools best for truly effective mold decontamination, but you put yourself at risk without proper training in toxigenic mold remediation.
It's true that a water damage emergency can give you plenty of reasons to stress out or feel overwhelmed. But with a team like 911 Restoration of Southern Maryland on your side, you can let go of every last worry. Sit back. Breathe easy. We've got this.
All you have to do is call.
Servicing the cities of Accokeek, Aquasco, Avenue, Bel Alton, Bryans Road, Bryantown, Bushwood, California, Callaway, Chaptico, Charlotte Hall, Chesapeake Beach, Clements, Dameron, Drayden, Faulkner, Great Mills, Hollywood, Hughesville, Huntingtown, Indian Head, La Plata, Leonardtown, Lexington Park, Lusby, Mechanicsville, Nanjemoy, Newburg, owings, Patuxent River, Pomfret, Port Republic, Port Tobacco, Prince Frederick, Ridge, Saint Inigoes, Saint Leonard, Scotland, Sunderland, Tall Timbers, Valley Lee, Waldorf, Welcome, White Plains, and surrounding areas.