Water Damage And Mold Removal in Huntingtown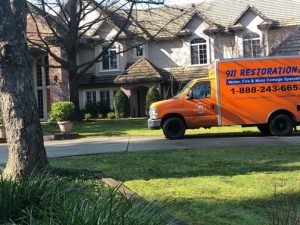 Want expert water damage restoration from a certified professional in 45 minutes or less? Pick up the phone and call 911 Restoration of Southern Maryland at 240-813-1810 and see how we can help you out.
Whether it's a flooded basement following a pipe burst, a sewage backup, storm destruction, or any other form of water damage, you can always find emergency service at 911 Restoration. Our flood cleanup crew is standing by 24 hours a day, 7 days a week, 365 days a year. No matter when you reach out, you can count on their guaranteed arrival time of 45 minutes or less.
Water damage is always an emergency, no matter when, where, or how it strikes. And if you need water damage restoration in Huntingtown, you're definitely not alone. The flood cleanup experts at 911 Restoration have seen it all, due to the harsh winters and rainy local climate. Their experience also means they lead with compassion, knowing all too well the stress and damage a water incident can cause.
The water damage restoration technicians set their professional standards high. Each one is IICRC certified and has been highly trained in all aspects of flood cleanup and mold remediation. They approach your property disaster with the single goal of providing a Fresh Start. This means leaving your home or business in its best-ever condition. They do this by working quickly to minimize damage, providing any necessary repairs, and concluding service with a professional mold inspection and mold removal.
Worried about the cost of water damage restoration? Our staff delivers peace of mind with a free insurance consultation. Before flood cleanup even begins, they help you understand what your provider will cover. They even file your claim for you and bill your provider directly. 911 Restoration accepts all types of insurance. If you have any specific questions, call us at 240-813-1810.

A water damage incident can create a lot of questions, but rest assured that 911 Restoration of Maryland has all the answers. Call now and let us put your mind at ease.
24-Hour Emergency Water Cleanup 
Pipe bursts, flooded basements, and destructive blizzards don't care about your schedule. They can strike at any time. The water damage restoration crew at 911 Restoration understand this, and they understand that you can't afford to wait on flood cleanup. Not even when disaster strikes at 3:00 a.m. on a Sunday.
You can always count on 24-hour availability and urgent attention from the water damage restoration technicians at 911 Restoration. Once they arrive at your home or business—in 45 minutes or less!—they immediately assess the situation and strategize a flood restoration plan to minimize your damage. If you have any belongings in harm's way, they pack out and store those items. If you need emergency storm repair, roof repair, or boarding up to stop the invasion of water, they handle that promptly. Then, they remove the water and bring in professional fans to thoroughly dry the structure of your property.
After the water is gone and all moisture has been removed, the flood cleanup workers set to work repairing damages. They are trained to manage any form of damage, no matter the surface, structure, or material. They also conduct a mold inspection and bring in the necessary tools for mold remediation.
If you're dealing with an emergency pipe burst for basement flood, things are probably looking pretty bleak. Rest assured that at 911 Restoration, we see nothing but possibility. Call now at 240-813-1810 for a fast recovery and a Fresh Start.
Expert Mold Inspection In Huntingtown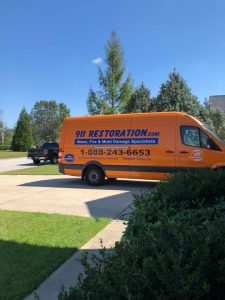 If you need flood cleanup in Huntingtown, you likely need mold remediation in Huntingtown, too. In both cases, the best solution is 911 Restoration of Southern Maryland.
Mold spores are constantly in the air inside your property. When you're struck by a pipe burst, sewage backup, or flooded basement, the spores land on any damp surface and create a colony in as little as 24 hours. Since mold growth is such a common result of water damage, mold inspection and mold decontamination is essential for comprehensive water damage restoration.
The mold remediation experts at 911 Restoration follow every flood cleanup job with a thorough mold inspection. If they find a colony, they handle mold removal cautiously and completely, using professional tools to dry out the structure in an effort to prevent future growth.
Mold removal should always be conducted by a certified mold remediation specialist. For one thing, household cleaners are rarely effective in mold removal, nor can they do anything to prevent disrupted spores from landing on the same surface and creating another colony. For another thing, some varieties of mold are toxigenic, and interacting with those species can cause great risk to your health. A certified mold removal crew knows how to manage dangerous infestations with the utmost care.
Whether it's about your own wellbeing or the health of your property, you can bet the technicians at 911 Restoration will always put you first. Don't settle for careless service or a job half-done. Call 911 Restoration of Southern Maryland and enjoy compassionate, expert care. Our number is 240-813-1810 and we are here to help you out.

Servicing the cities of Accokeek, Aquasco, Avenue, Bel Alton, Bryans Road, Bryantown, Bushwood, California, Callaway, Chaptico, Charlotte Hall, Chesapeake Beach, Clements, Dameron, Drayden, Faulkner, Great Mills, Hollywood, Hughesville, Huntingtown, Indian Head, La Plata, Leonardtown, Lexington Park, Lusby, Mechanicsville, Nanjemoy, Newburg, owings, Patuxent River, Pomfret, Port Republic, Port Tobacco, Prince Frederick, Ridge, Saint Inigoes, Saint Leonard, Scotland, Sunderland, Tall Timbers, Valley Lee, Waldorf, Welcome, White Plains, and surrounding areas.