Water Damage And Mold Removal in Hollywood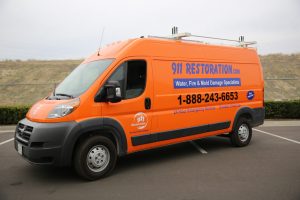 Water is a gentle and relaxing element in the right place. But the "right place" is not your basement. Or your crawl space. Or your business. When water shows up unexpectedly via pipe burst, winter storm, sewage backup, flooded basement, or any other incident, the effects can be devastating. Fortunately for anyone in need of urgent flood cleanup in Hollywood, an emergency disaster restoration company is only one call away.
Call 911 Restoration of Southern Maryland right now and have certified water damage restoration technicians at your door within 45 minutes. That's our guaranteed arrival time, 24 hours a day, even on weekends and holidays. Pipe bursts don't take vacation. Hollywood's harsh blizzards and wild summer storms don't have a bedtime. Flooded basements don't care about weekends. So the flood cleanup crew at 911 Restoration don't, either.
These professionals are all IICRC certified. They've each undergone extensive training to ensure they can provide any service your water damage incident requires. They're the local go-to for everything from emergency boarding up to water extraction to mold inspection and mold remediation. They even handle repairs for any imaginable type of damage. Do you need a contaminated carpet removed? Need drywall replacement, roof repair, or mold removal in your formerly flooded basement? No matter the damage, material, or structure, the flood cleanup crew has it covered.
They do all this with limited cost to you. They even help you go into the water damage restoration process with financial peace of mind, thanks to their free insurance consultation. Before you commit to a single service, a water damage restoration specialist sits down with you to explain exactly what your insurance provider will cover, from sewage extraction to mold remediation. They even help you file your claim so you can be sure you get every penny you're entitled to.
An unexpected water disaster can feel like an incident from which you will never recover. Call 911 Restoration of Southern Maryland and discover how fast and easy total recovery can be.
Commercial And Residential Water Damage Restoration In Hollywood
Your home is a refuge you created for yourself and your family. Your business is a testament to the strength of your dreams. When either one is damaged by a pipe burst, flooded basement, storm damage, or any other water nightmare, it can feel like a massive invasion. Not to mention, water damage poses health risks to your loved ones and a threat to your profits.
Whether yours is a commercial or residential property, the flood cleanup and mold remediation technicians at 911 Restoration understand that you can't afford to waste a second in water damage restoration. You can trust them to arrive within the guaranteed 45 minutes and to do all they can to minimize damage and get you back on your feet as soon as possible.
For these water damage restoration specialists, simply getting rid of the water isn't enough. They want you to feel like your property has truly been restored to you, as beautiful, clean, and strong as it was when you first moved in. After they've completed emergency services such as water removal, boarding up, storm repairs, roof repairs, and leak detection, they take extra steps to fortify your home or business. This includes structural drying to prevent mold growth and repairs for any damage caused by the water incident. 
As disastrous as this day may feel, our flood cleanup technicians are standing by, ready and waiting to turn your water damage into a new beginning for your home or business. Let them make your property better than new, and call 911 Restoration of Southern Maryland for a Fresh Start.
Certified Mold Inspection And Mold Decontamination
Did you know there are more than 100,000 species of mold? Or that certain varieties of mold release dangerous mycotoxins into the air you breathe? 
And did you know that household cleaning supplies are a poor substitute for professional mold removal?
It's true. In order to ensure your home or business is safe from the dangers of an infestation, it's important to get a thorough mold inspection and mold remediation from a trained and certified professional. This is especially true in the wake of water damage, when moisture seeps into the dark corners of your property, causing mold to thrive in secret.
911 Restoration includes mold inspection and mold removal as a necessary part of water damage restoration. Once the affected area is dried out, the mold decontamination experts conduct a thorough mold inspection. If the mold inspection reveals an infestation, they take a sample to a third-party laboratory for testing. Once they know for sure which species they're dealing with, they speak with you about their plan for safe mold remediation. They then handle mold removal with the utmost care, using professional tools and insight to decontaminate your home or business without spreading spores or mycotoxins.
Everything we do at 911 Restoration, we do with your best interest in mind. If you need water damage restoration or mold removal in Hollywood, choose the restoration contractor who will always put you first. Choose 911 Restoration of Southern Maryland.
Servicing the cities of Accokeek, Aquasco, Avenue, Bel Alton, Bryans Road, Bryantown, Bushwood, California, Callaway, Chaptico, Charlotte Hall, Chesapeake Beach, Clements, Dameron, Drayden, Faulkner, Great Mills, Hollywood, Hughesville, Huntingtown, Indian Head, La Plata, Leonardtown, Lexington Park, Lusby, Mechanicsville, Nanjemoy, Newburg, owings, Patuxent River, Pomfret, Port Republic, Port Tobacco, Prince Frederick, Ridge, Saint Inigoes, Saint Leonard, Scotland, Sunderland, Tall Timbers, Valley Lee, Waldorf, Welcome, White Plains, and surrounding areas.