Water Damage And Mold Removal in Great Mills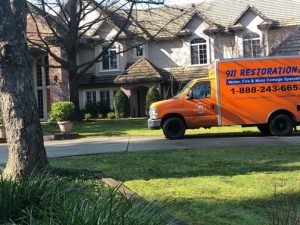 It's 2:00 a.m. A pipe bursts in your home, sending gallons of water spraying into your property. As you stand in your flooded basement, your mind reels. How will you dry out your carpet? Will you need mold remediation? Who do you call for water damage restoration in Great Mills?
Let the answer to that last question be "911 Restoration of Southern Maryland," and all the other answers will fall into place. With 24/7 emergency water damage restoration service and IICRC certified flood cleanup technicians, 911 Restoration can take you from disaster to Fresh Start in no time flat. Give us a call at 240-813-1810 and see how we can help you out.

When you call 911 Restoration of Southern Maryland, you get assistance at your door in 45 minutes or less. It doesn't matter if it's day or night, weekday, weekend, or holiday. The water damage restoration crew is always standing by, ready to step in at a moments notice to help a neighbor get back on their feet. 
The flood cleanup technicians are extensively trained and experienced in every last aspect of water damage restoration. They make every effort to turn today's nightmare into an opportunity to restore your home or business to better-than-new condition. Not only do they have your back with emergency services such as storm repair and water extraction; they also offer lasting solutions with damage repair, mold inspection, and mold remediation.
If you're worried about the cost of flood restoration, you can breathe easy there, too. In addition to providing affordable rates, the water damage restoration staff offers a free insurance consultation. This means a knowledgeable flood cleanup expert will walk you through your own insurance plan and help you understand which services are covered by your provider. Will your insurance pay for sewage extraction? Mold inspection? Mold removal? Roof repair? The water damage restoration staff will tell you, and they'll even assist with claim filing and direct billing.
It's okay to feel overwhelmed when you've got a flooded basement or leaky ceiling to deal with. Just know that the moment you call 911 Restoration of Southern Maryland, all those worries are off your plate. Our dedicated flood cleanup experts are here for you. Call now at 240-813-1810.
Commercial And Residential Flood Cleanup In Great Mills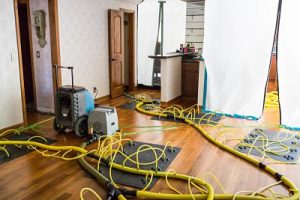 Great Mills is a wonderful place to live and work, but if you own property in this area, you're always vulnerable to water damage due to blizzards, storms, and even tornadoes. Fortunately, you can count on 911 Restoration of Southern Maryland, no matter what kind of water damage you have or what type of property you own. Our water damage restoration crew serves residential and commercial properties alike, and they are trained to manage the unique needs of every structure, from a cozy, historic home to a multi-story office building.
So what does water damage restoration entail? Well, if you choose 911 Restoration, water damage restoration includes literally anything your property needs to feel as new as the day you bought it. The flood cleanup crew responds urgently to your call with emergency services including boarding up, storm repair, and water extraction. Then, they follow up with additional services to prevent future damage and make your home or business feel like your pipe burst or flooded basement never happened. These services include mold inspection, mold remediation, and any possible damage repair.
The flood cleanup technicians at 911 Restoration know how much you love your property. They work hard to honor what you've invested in your home or business by serving you with full property restoration.
Don't settle for basic water extraction. Call 911 Restoration of Southern Maryland and reclaim your beloved property. Our number is 240-813-1810 and we are available at all hours.

Thorough Mold Inspection From A Certified Mold Remediation Company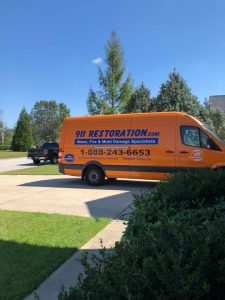 No water damage restoration effort is complete without an expert mold inspection. Mold spores act fast to set up a colony on a damp surface. Even with the swiftest response, it is sometimes impossible to dry out a property before mold can develop. And because mold loves dark places, it's entirely possible to unknowingly live with a mold infestation without a mold inspection from a certified mold remediation specialist.
If you suspect you have mold following a water damage incident, please call 911 Restoration right away for a mold inspection and mold decontamination. It may seem like mold removal can wait, but an infestation presents a risk to both your property and yourself. Mold eats away at your walls, ceiling, and floors. The longer you go without mold removal, the more costly your damages will be. Plus, certain species of mold are toxigenic, meaning they release mycotoxins into the air you breathe. If you delay mold remediation, you give your infestation extra time to contaminate the air and increase your risk of contracting a wide range of health issues, from dizziness to heart problems.
The mold decontamination experts at 911 Restoration know how to find mold and how to conduct mold removal in the safest and most effective way possible. They also have the tools necessary for structural drying, making the surface where mold was found inhospitable to future growth. In other words, if you call on 911 Restoration for mold removal today, you will be far less likely to need mold remediation again in the near future.
The water damage restoration experts work with the goal of performing a complete and thorough job so you aren't left with a single damage or any need to call again soon. For flood cleanup and mold remediation in Great Hills, reach out to the contractor who does it right the first time. Call 911 Restoration of Southern Maryland at 240-813-1810.
Servicing the cities of Accokeek, Aquasco, Avenue, Bel Alton, Bryans Road, Bryantown, Bushwood, California, Callaway, Chaptico, Charlotte Hall, Chesapeake Beach, Clements, Dameron, Drayden, Faulkner, Great Mills, Hollywood, Hughesville, Huntingtown, Indian Head, La Plata, Leonardtown, Lexington Park, Lusby, Mechanicsville, Nanjemoy, Newburg, owings, Patuxent River, Pomfret, Port Republic, Port Tobacco, Prince Frederick, Ridge, Saint Inigoes, Saint Leonard, Scotland, Sunderland, Tall Timbers, Valley Lee, Waldorf, Welcome, White Plains, and surrounding areas.