Sanitization and Disinfection Services in Southern Maryland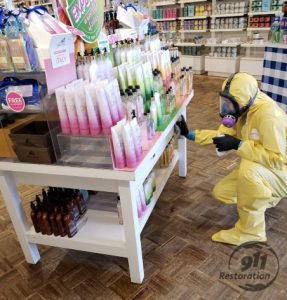 If you don't know what to make of the coronavirus pandemic, we can help. 
This crisis has swept across the globe so quickly, that it's hard to keep track of new developments and guidelines. Your first priority (other than diligent hygiene and property disinfection) should be to make sure all your information comes from reputable sources. The Centers for Disease Control and World Health Organization are powerful resources at this time.
Be aware that coronavirus is not like other viruses we've seen. It is highly contagious and potentially fatal for vulnerable members of our community in Southern Maryland. Every one of us must take the threat of infection seriously. Even if you recover easily, you run the risk of spreading coronavirus to someone who will not. Call 911 Restoration locations at 240-813-1810 and see how we can help you.

Do not assume that a lack of symptoms indicates a lack of infection. Some people carry the virus for as many as 14 days before ever exhibiting a single symptom. In fact, there are a few individuals who never show signs of infection. Even these asymptomatic carriers can still spread coronavirus throughout their community. Social distancing is extremely important at this time. We must all live as though we may carry the virus. Stay home as much as possible and give others a distance of at least six feet when you are in public spaces.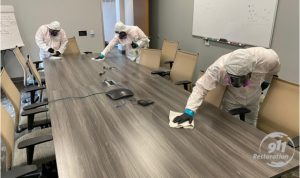 Sanitization Services for Commercial Property Owners
It has never been more important to maintain a fully sanitized home or business. When the virus comes into contact with certain surfaces, it can live on that surface for hours or even days. Disinfect thoroughly, especially if you own an office, retail store, or any other commercial facility. You do not know where people have been before they enter your property. You have no way of knowing whether they have observed social distancing or might be carrying the virus unknowingly. To provide peace of mind for your employees and customers, follow strict, regular sanitization procedures.
911 Restoration of Southern Maryland is happy to be a resource for professional disinfection in our community. We serve every type of property, from small residences to vast commercial facilities. Our team of compassionate sanitization technicians is eager to provide reassurance during this difficult time. This includes providing you with an extensive deep cleaning for your commercial or residential property. Our techs work with IICRC certified They are trained to strictly adhere to CDC and EPA protocols for your peace of mind.
For support and sanitization in Southern Maryland, call 911 Restoration of southern Maryland today at 240-813-1810.
Thankfully, it is also a nationwide restoration company with local expertise in water damage restoration, fire damage restoration services. and disaster restoration services.