Water Damage Restoration Services in Port Republic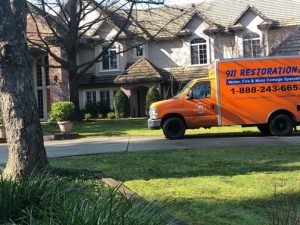 Port Republic, Maryland is a quaint and quiet community in Calvert County and the ideal place for you to plant roots if you are seeking to buy a new house or retail storefront property. Becoming a residential or commercial building owner can be accompanied by a myriad of exciting and joyous feelings, as well as numerous responsibilities. If a flooded basement or roof happens to your building, whether because of a pipe burst, roof leak, or severe storm, you need the expert water damage restoration services of a bonded, insured, and licensed water removal company right away. The longer you wait, the more damage is bound to occur. Thankfully, 911 Restoration of Southern Maryland is here to help. With 24/7/365 availability and a 45-minute response time, we are there for you any time of the day or night to get to work on your flood cleanup needs right away.
Water Damage Restoration Facts in Port Republic
 As a commercial or residential property owner, your building is surely to be your greatest asset. As hard as you focus on being proactive and keeping your building protected, you can't always predict water damaging from happening. This is why 911 Restoration's team of experienced water cleanup service professionals are ready to assist and educate you. Here are a few water damage restoration facts that every property owner needs to know:
Preventative Measures Could Keep House Flooding at Bay: As a building owner, you should be thoroughly inspecting every component of your property on a routine basis, including the gutters, roof, drains, and plumbing lines. If your gutters are full of debris and leaves, get a professional gutter company to clean them out immediately. Keep abreast of potential plumbing problems before they can cause mega damage.

Roof Leaks: A leaky roof is one of the most common causes of water damage. Even if the roof is in great shape, a severe storm or freezing temperatures could wreak havoc on your building.

Even Little Leaks Could Cause Huge Problems: If you leave a tiny leak within your walls or ceiling unchecked, it could soon cause intensive damage.
There are Different Types of Water Contamination: There are three different categories of water contamination, including white, gray, and black water. If you come into contact with polluted water, your health could be at risk. This is why calling a professional water extraction company is critical.
Even the most proactive commercial and residential property owners aren't protected from water damage. If flooding happens to your property, call us immediately to obtain the best water damage restoration service in Port Republic.
Mold Removal Services in Southern Maryland
Flooding inside of your property can also lead to another problem: mold infestations. When flood water finds its way under your floors or inside of your walls, it can create the perfect breeding ground for fungi. If left unattended, mold spores will spread to other areas of your building, causing health concerns and weakening the structural integrity of your property.
Mold that grows in its natural habitat is actually very useful as it helps to break down organic matter such as dead leaves. But you don't want this uninvited guest breaking down your walls and drywall. This is why it is imperative to contact a mold remediation team such as 911 Restoration straight away.
Our fast services guarantee that your mold dilemma is fixed straight away. Other benefits of partnering with us include:
   

A free visual inspection for property owners only

   

A locally owned and operated mold decontamination company

   

Leak detection and repair

   

Same day service

   

And so much more!
We recently helped out a local family who had detected brown and green stains appearing in their basement ceiling. They were concerned for the health and safety of their child and so they called us. 911 Restoration of Southern Maryland was able to be at their front door within 45 minutes of their initial phone call to start the mold inspection process right away. Our supportive staff also took a 'fresh start' approach to the mold removal job, helping to thoroughly clean out every trace of mold in the home and help the family enter a new, fresh chapter of their lives.
If you are in need of a professional and supportive water damage restoration and mold removal company, call 911 Restoration of Southern Maryland right away. We are more than happy to help you get back to a healthy and happy life!