Water Damage Restoration Services in Hughesville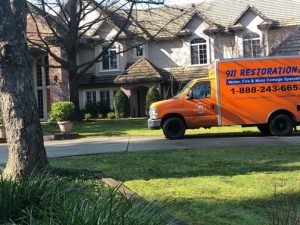 Whether you're a newly-wed couple seeking to settle down and buy a house to start a family or a motivated entrepreneur wanting to open up a new retail storefront business, Hughesville, Maryland is the optimal place to do both. However, amidst all of the excitement and joy you may be feeling about purchasing a new residential or commercial property, you need to be aware of the newfound responsibilities that accompany building ownership. If house flooding occurs, whether from a flooded basement, pipe burst, or severe storm and your building experiences water damage, you are responsible for the repairs. Thankfully, 911 Restoration of Southern Maryland are experts at water damage restoration services. Our flood cleanup company draws from the best water damage restoration technicians in the area. With 24/7/365 availability and a swift 45-minute response time, you will never be left to deal with the problem by yourself. We are here to help you, no matter what time of day or night it may be.
All about Water Damage Restoration in Hughesville
Water damage can affect any property at any time. If it happens to you, a million questions and concerns will probably run through your mind: What do I do now? What's going to happen? Is my stuff ruined? Thankfully, 911 Restoration of Southern Maryland is here to help.
Here are some things you should know about water damage, from our water extraction company experts.
Time is of the Essence – When your house or retail building has been hit by water damage, you do not have the luxury of waiting for a convenient time to start cleaning it up. Water will start staining your walls and warping your wood floorboards within hours of the initial flood. Within 24 to 48 hours, you will have a mold infestation on your hands, causing an entirely new problem. It is imperative to act fast and call a water removal company right away.

The Pollution Level in the Water is Critical – Water damage inside of your property is categorized as one of three levels depending upon how polluted the water is. Category one is water from a clean water source, category two is water that may cause illness through contact, and category three is highly contaminated water. 911 Restoration of Southern Maryland is equipped to safely handle all three categories of polluted water to thoroughly dry and decontaminate your home.

Health Hazards – Moisture will promote the growth of mold and mildew and lead to serious health complications. Elderly people, infants, and individuals with asthma or allergies will be most likely to be afflicted.
Mold Removal Services in Hughesville
If your residential or commercial property has been flooded and needs water damage restoration services, you probably need mold remediation as well. 911 Restoration can do both! We will extract all of the mold spores inside of your walls quickly, creating a safe, healthy environment for you to enjoy once again.
While mold that exists in nature is safe and actually quite helpful because it breaks down organic materials, mold and fungus inside of your home can be ghastly. It is important to act fast. Our team will be at your doorstep within one hour of your initial phone call to start mold inspection and mold decontamination services straight away. Other benefits of working with us include:
       

A free visual inspection for property owners only

       

A locally owned and operated company

       

Leak detection and repair

       

A franchise of a nationwide company

       

Years of knowledge and experience

       

And so much more!
Our "fresh start" approach will help you to see the positive aspects of the situation and help us put you at the center of our attention. Our supportive and sympathetic team understands that mold removal is a scary time, and we will help you to enter a clean new chapter of your life.
If you are in need of water damage restoration or mold remediation services, remember that timing is everything. Be sure to call 911 Restoration of Southern Maryland right away. No matter what time it is or where you're located in the county, we will be there within 45 minutes to get to work right away. Call us now!