Water Damage And Mold Removal in Leonardtown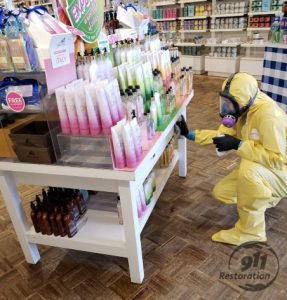 Don't wait another second for water damage restoration. Whether it's a flooded basement due to a pipe burst or storm damage from a Southern Maryland blizzard, every minute you delay is another minute water seeps deeper into the structure of your property, creating permanent damage. You need to call a water damage restoration company right away. And it's in your best interest to call the flood cleanup crew that treats your water damage emergency as seriously as you do:
911 Restoration of Southern Maryland.
911 Restoration offers 24/7 emergency response for water damage restoration in Leonardtown and the surrounding area. Call any time of the day or night, and flood cleanup technicians will be there to help you within 45 minutes. That's not an estimate. 45 minutes is the guaranteed arrival time.
Every water damage restoration expert is IICRC certified and trained to manage every aspect of flood cleanup, from the initial water extraction to mold inspection and mold remediation. If you need any repairs, they've got it covered. Roof damage? They'll fix it. Rotted drywall? They'll replace it. Unsalvageable carpet? Consider it gone.
For these technicians, your peace of mind is Priority One. They work quickly to minimize your damage. They communicate clearly and operate in full transparency every step of the way. They even take financial anxiety out of the equation with a free insurance consultation to clarify exactly which services are covered by your provider. If you need help with inventory and loss itemization, the staff is on it. They even file a claim on your behalf and bill your provider directly.
You may see a full-blown disaster, but the water damage restoration specialists at 911 Restoration see an opportunity for a Fresh Start. Call today and let them make your property new again.
Comprehensive Flood Cleanup In Leonardtown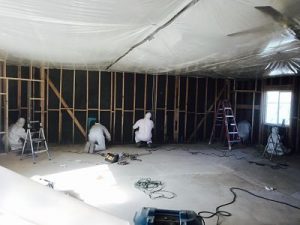 Water damage is nothing less than an invasion on the property you've poured your heart, time, and resources into. The flood cleanup crew at 911 Restoration have been handling water damage restoration and mold remediation in Leonardtown for a long time, and they've seen how pipe bursts, flooded basements, and damages from the wet climate can cause devastating harm to beloved properties. You can trust that they understand the stress you're under. The moment your call comes in, the flood cleanup workers are focused on one thing: restoring your property to the refuge it once was.
They do this first by responding with urgency to your water damage emergency. They arrive within 45 minutes and immediately set to work fulfilling your most urgent needs first. The water damage restoration crew is trained and experienced in literally every emergency flood cleanup service, from storm and roof repair to water extraction and leak detection. If you have any belongings in the flooded area, they pack out and store those items to keep them safe. 
It's extremely common for mold to form as a result of water damage. While mold may be unavoidable depending on the extent of your water damage, the flood cleanup technicians to all they can to save you the cost of mold remediation by promptly drying out your property with professional fans. They also conduct a professional mold inspection, checking the dark, damp areas that tend to soak up moisture and create a safe space for mold to thrive. If they discover an infestation, they follow up with safe, expert mold removal.
Finally, the water damage restoration staff repairs any surface or structure that has been damaged by water or mold. You can be sure they're capable of handling any repair, so you don't have to worry about the time and expense required to hire a second contractor.
911 Restoration of Southern Maryland is your ally in water damage restoration. You may feel overwhelmed or devastated, but know that you're not alone. Call us today and let us take every last worry off your plate.
A Certified Mold Remediation Company Near You
If you have a mold problem, you likely know that a quick Internet search will reveal a few dozen "home remedies." As a responsible property owner, you deserve to know that truly effective and safe mold removal should always be handled by a certified mold remediation expert.
Mold is a trickier organism than it seems to be. It constantly releases spores, allowing it to reproduce quickly and easily. Plus, certain varieties are toxigenic, releasing harmful mycotoxins into the air. When humans and pets inhale these mycotoxins, they are at risk of a variety of health issues, from allergies to heart problems. When a property owner attempts mold removal themselves, they often release an excess of both spores and mycotoxins into the air. The mycotoxins are unsafe to breathe, and the spores can easily find a new landing place, forcing you into an unending cycle of mold growth and mold removal.
A certified mold decontamination professional knows how to eliminate growth while keeping mycotoxins and spores as contained as possible. They also have professional tools to make structural dehumidifying part of the mold remediation process. This step dries out the structure where mold formed, discouraging a repeat infestation. 
Another reason to choose a certified mold remediation expert? A properly trained professional can conduct a comprehensive mold inspection. They know where to look to find mold and can recognize all the telltale signs of a hidden infestation. A professional mold inspection is important because mold often thrives in unseen corners. It takes a trained eye to discover a sneaky colony.
Water damage restoration is a complicated and varied process, but if you call on 911 Restoration of Southern Maryland for flood cleanup and mold removal, you can trust that you're in good hands. Don't risk it with another company. Call now for the service you deserve.
Servicing the cities of Accokeek, Aquasco, Avenue, Bel Alton, Bryans Road, Bryantown, Bushwood, California, Callaway, Chaptico, Charlotte Hall, Chesapeake Beach, Clements, Dameron, Drayden, Faulkner, Great Mills, Hollywood, Hughesville, Huntingtown, Indian Head, La Plata, Leonardtown, Lexington Park, Lusby, Mechanicsville, Nanjemoy, Newburg, owings, Patuxent River, Pomfret, Port Republic, Port Tobacco, Prince Frederick, Ridge, Saint Inigoes, Saint Leonard, Scotland, Sunderland, Tall Timbers, Valley Lee, Waldorf, Welcome, White Plains, and surrounding areas.