Water Damage And Mold Removal in Owings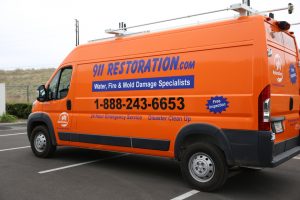 Property owners in Owings know the scenario all too well. A summer storm or winter blizzard destroys a roof or window, filling the property with water. Or a frozen pipe bursts, and the next thing you know, you've got a flooded basement. Sewer backups, washer machine floods, even tornadoes…water damage is always a possibility, and it almost always happens suddenly and unexpectedly. If you've got a water damage emergency, you've got an ally in 911 Restoration of Southern Maryland. Our water damage restoration technicians are on call 24/7/365, and if you call now, they'll be at your residential or commercial property in 45 minutes or less, guaranteed.
911 Restoration of Southern Maryland is insured, licensed, and bonded. Every flood cleanup technician is IICRC certified and highly trained to be the very best at what they do. You can trust this crew for comprehensive water damage restoration. Whatever it takes to make your property brand new again, they've got it covered. Emergency water extraction, structural drying, damage repair, mold inspection, mold remediation…you name it, they're already on it.
Just as important, the flood cleanup staff leads with compassion. They readily put themselves in your shoes, recognizing how high the stakes are for you and doing everything they can to minimize your damage, communicate clearly, and restore your property to better-than-new condition. They even take the financial pressure off with a free insurance consultation, helping you navigate your insurance plan with a clear understanding of what your provider will cover, from carpet drying to mold removal. The flood cleanup staff also assists with loss itemization, claim filing, and direct billing. You don't even have to deal with the burden of insurance when you work with us.
Water damage restoration can seem overwhelming. But with 911 Restoration of Maryland, you can expect immediate peace of mind. Call us today for mold remediation and emergency water damage restoration in Owings and beyond.
Emergency Carpet Drying And Flood Cleanup In Owings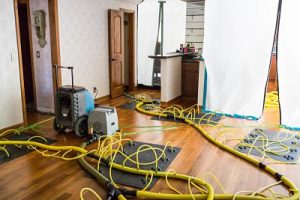 If you need flood cleanup, you deserve to work with a restoration contractor who takes your water emergency as seriously as you do. 911 Restoration is standing by, ready and waiting to respond urgently with emergency storm repair, boarding up, roof repair, water extraction, and any other flood cleanup need.
The water damage restoration crew immediately sets to work at resolving the source of your water damage emergency and extracting the sewage or water that has invaded your space. They pack out and store any belongings that are in harm's way and have not yet been damaged by your pipe burst or flooded basement. After water extraction, the flood cleanup workers use heavy duty fans for structural and carpet drying, in the hopes of preventing rot and mold contamination.
That said, mold is frequently an unfortunate side effect of a pipe burst or other water damage incident. Fortunately, your water damage restoration experts are also certified in mold decontamination and qualified to conduct a professional mold inspection. If necessary, they handle mold removal as well.
The philosophy of 911 Restoration is that every disaster in life can become an opportunity for a Fresh Start, if only you know how to embrace the opportunity. Fortunately, our water damage restoration staff does know how to work towards stellar results. They leave no stone unturned when it comes to fully restoring your property to better-than-new condition.
Don't just look for a way to get rid of the water. Call 911 Restoration of Southern Maryland and prepare yourself for a bright, new beginning. 
What About Mold From Water Damage?
Do you know how long it takes for water damage to give rise to a mold infestation? Only 24 hours. That's it. Mold spores only need 24 hours of exposure to a damp surface. If the structure of your home or business holds moisture for only one day, you could soon have a thriving mold colony on your hands.
This is why 911 Restoration always includes an in-depth mold inspection with water damage restoration. The flood cleanup technicians know that they haven't truly solved your water damage problem if they haven't taken steps to ensure you're protected from future mold damage. If their mold inspection reveals a colony, they sample the infestation for professional testing so they can devise an informed mold remediation strategy. Certain species of mold are toxigenic and require special care so mold removal can be handled without spreading dangerous mycotoxins throughout the air you breathe.
Not only can a certified mold remediation specialist ensure a thorough mold inspection and safe mold removal, but the crew at 911 Restoration also know how to help prevent future growth. If you perform mold removal yourself, you're likely to get a repeat infestation. When 911 Restoration does it, they use professional tools to fully dehumidify the structure where mold was found. This helps prevent the growth of another colony, hopefully sparing you from the endless cycle of infestation and mold remediation.
Everything your flood cleanup and mold inspection experts do, they do with your wellbeing in mind. From helping you love your property again to guarding your health against dangerous mycotoxins, you are their first priority. If you need water damage restoration or mold removal in Owings, don't settle for less than the best. Call 911 Restoration of Southern Maryland today.
Servicing the cities of Accokeek, Aquasco, Avenue, Bel Alton, Bryans Road, Bryantown, Bushwood, California, Callaway, Chaptico, Charlotte Hall, Chesapeake Beach, Clements, Dameron, Drayden, Faulkner, Great Mills, Hollywood, Hughesville, Huntingtown, Indian Head, La Plata, Leonardtown, Lexington Park, Lusby, Mechanicsville, Nanjemoy, Newburg, owings, Patuxent River, Pomfret, Port Republic, Port Tobacco, Prince Frederick, Ridge, Saint Inigoes, Saint Leonard, Scotland, Sunderland, Tall Timbers, Valley Lee, Waldorf, Welcome, White Plains, and surrounding areas.