Water Damage and Mold Removal in Accokeek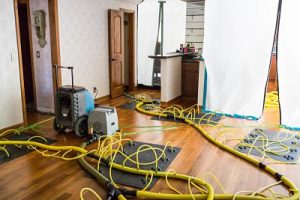 It's 2:00 in the morning. A pipe bursts and sends gallons of water spraying into your home. Water soaks into your carpet or into the concrete of your now flooded basement. What do you do? Who can you call? 
The answer is 911 Restoration of Southern Maryland. Our technicians are on call to provide emergency flood cleanup in Accokeek and the surrounding area 24 hours a day, 365 days a year. We even guarantee an arrival time of 45 minutes or less to put your mind at ease.
Water disasters happen without warning in Accokeek and the surrounding community. As beautiful as Maryland is, the local climate is hard on homes and businesses alike. Between floods, blizzards, and run-of-the-mill incidents such as pipe bursts, no property is truly safe. That's why our water damage restoration experts work hard to provide the best water clean up service around. 
We know how much time, money, and attention you've put into making your commercial or residential property the best it can be. At 911 Restoration, we want to honor your investment with comprehensive flood cleanup. Our IICRC certified technicians have completed extensive training in all aspects of property restoration. They don't just handle emergency services like boarding up and water extraction after a pipe burst. They also repair damaged structures, conduct mold inspections, and complete mold remediation. Our ultimate goal is to rebuild your property to its best-ever condition so you can feel the relief of a Fresh Start.
Wondering how much comprehensive water damage restoration costs? While we can't give you a quote without knowing your exact situation, we can promise to provide a free insurance consultation. We work with all types of insurance and sit down with you to review your policy. We explain which water damage restoration services your provider pays for so you can move forward with eyes wide open. 
At 911 Restoration of Southern Maryland, we know transparent business practices and expert service are key to your peace of mind. If you're looking for a water extraction company you can count on, look no further.
Full-Service Water Damage Restoration in Accokeek
"Water damage restoration" is a broad term that can mean many things. For 911 Restoration of Southern Maryland, it means "whatever it takes to fully restore your property."
Our flood cleanup professionals arrive at your property prepared to handle everything from water and sewage removal to roof repair, drywall replacement, and mold decontamination. They provide urgent services such as storm repair, leak detection, and water extraction. If you have any belongings at risk of damage during the water damage restoration process, they see to it that those items are safely stored away. To prevent rotting and mold development in your flooded basement, the flood cleanup crew brings in heavy duty fans, drying your property to its core.
Oftentimes, a pipe burst or flooded basement can be so extensive that customers still suffer damages, even with the swiftest flood cleanup efforts. This is where 911 Restoration goes above and beyond. Our water damage restoration technicians have replaced contaminated carpets. They have repaired destroyed drywall and patched roofs. They have put countless customers' minds at ease with a top-to-bottom mold inspection and safe, complete mold removal. No matter what you've been through, you can be sure they'll do the same for you.
You may feel like you're in the midst of a nightmare, but your dedicated flood cleanup crew is eager to show you a bright new day on the other side. Call 911 Restoration of Southern Maryland and look forward to a Fresh Start.
IICRC Certified Mold Remediation Specialists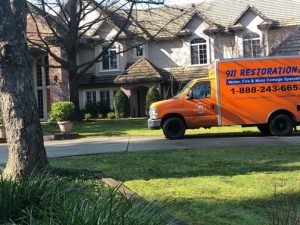 If you suspect you have a mold infestation in your home or business, do not attempt mold removal yourself. Instead, call the IICRC certified mold remediation experts at 911 Restoration of Southern Maryland.
While do-it-yourself mold removal may seem like a smart way to save a few dollars, it's bound to cost you more in the long run. Aside from the fact that household cleaners are unreliable tools for mold decontamination, there are three major risks to DIY mold remediation.
First, the average property owner does not have the proper training to conduct a mold inspection. Without a professional mold inspection, you are likely to live with undiscovered colonies in your property. While you may successfully clean up mold on your walls, you're leaving additional infestations to thrive and reproduce in hidden spaces.
Second, most varieties of mold are either allergenic, pathogenic, or toxigenic. In other words, they're harmful to your health. When you attempt mold removal personally, you put yourself in direct contact with dangerous particles.
Third, mold remediation technicians complete the mold removal process with structural dehumidifying. This is a step that requires professional fans to dry the structure of your property to its core. Without this process, moisture deep within your walls or floor rises to the surface and causes another infestation. You are then stuck in the same cycle of mold removal and mold growth. Over time, the fungus causes irreparable damage to your home or business.
Save yourself money and time. For full-service mold remediation in Accokeek and the surrounding area, call 911 Restoration of Southern Maryland.
Servicing the cities of Accokeek, Aquasco, Avenue, Bel Alton, Bryans Road, Bryantown, Bushwood, California, Callaway, Chaptico, Charlotte Hall, Chesapeake Beach, Clements, Dameron, Drayden, Faulkner, Great Mills, Hollywood, Hughesville, Huntingtown, Indian Head, La Plata, Leonardtown, Lexington Park, Lusby, Mechanicsville, Nanjemoy, Newburg, Owings, Patuxent River, Pomfret, Port Republic, Port Tobacco, Prince Frederick, Ridge, Saint Inigoes, Saint Leonard, Scotland, Sunderland, Tall Timbers, Valley Lee, Waldorf, Welcome, White Plains, and surrounding areas.