Water Damage Restoration in Saint Leonard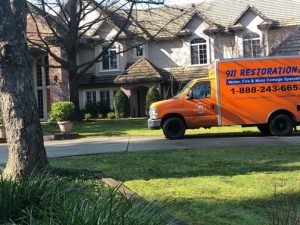 Situated in Calvert County, Saint Leonard is a quaint, quiet town and the ideal spot to buy a house to raise a family in or open up a new retail store. But although this picturesque beach town has its perks, you still will have a lot of responsibility on your plate as a residential or commercial property owner. Once you invest in a building, that property is yours to fully maintain. Any damage that happens to it is yours to repair. That's why water damage from a pipe burst, flooded basement, house flooding, or severe storm can be detrimental to property owners. Thankfully, the water damage restoration experts of 911 Restoration of Southern Maryland are here to lend a helping hand. With 24/7/365 availability and a 45-minute response time, our team of experienced and educated technicians will be at your door in no time at all to go to work straight away.
Signs that Your Property Needs Water Damage Restoration Services
As a water extraction company, 911 Restoration of Southern Maryland not only wants to provide professional water damage inspection and water cleanup services, but to also thoroughly educate Saint Leonard residents about the early signs of water damage in their properties.
If you notice the following signs happening in your home or office building, you may need the assistance of a water removal company:
An Increased Water Bill – If you're noticing an uptick in your water utility bill lately, there may be a leak present in your plumbing system. Depending upon where the leak is located, it may take a long time to notice it, giving it ample time to cause significant damage to your building.

A Musty Odor – While a musky smell can be very prevalent in your basement, it can also happen in other areas of your building. A musty odor is a sign that your house or retail store is suffering from excess moisture in the air.

Cupping Wood Floors – If there is water pooling underneath your hardwood floors, your planks will begin to cup. If you notice cupping, it's time to call a water damage restoration company right away.

Bubbling or Peeling Paint – This will most likely happen if a pipe burst occurred behind your wall.

Mold – If you see yellow, green, or brown discoloration on your walls or ceiling, you may need mold removal services in addition to house flooding services.
If you notice any of the aforementioned signs, you need to call 911 Restoration of Southern Maryland. We will arrive at your door within only 45 minutes of your initial phone call to get to work right away.
Mold Remediation Services in Saint Leonard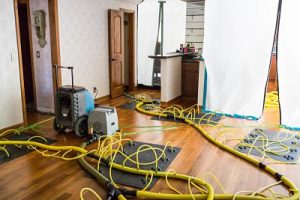 If your home or commercial property recently experienced flooding, you may be in need of mold decontamination services too. Luckily for you, 911 Restoration of Southern Maryland can handle both water extraction and mold inspection jobs!
Mold needs to be removed immediately if it has taken up residency within your four walls. While this fungus is helpful outside, mold can affect your building and your health in a myriad of ways. For one, mold will eat away at any surface it grows on, weakening your walls and the structural foundation of your building. Mold will also cause severe health complications in those that breathe it in. Some mold-related health issues include:
       

Nasal and sinus congestion

       

Respiratory issues, including wheezing, chest tightness, and difficulty breathing

       

Sneezing

       

Throat irritation
If you suspect that you have mold and mildew growing inside of your home or apartment building, call the mold removal professionals of 911 Restoration of Southern Maryland right away. We have the tools and training to safety extract every mold spore from your building in an efficient manner.
Some other benefits of partnering with us include:
       

A free visual inspection for property owners only

       

Leak detection and repair

       

Locally owned and operated

       

And much more!
Our "fresh start" approach also enables us to put you at the center of our focus. Seeing water harm your building can be a tough situation and will cause a lot of unwanted emotions to brew up. 911 Restoration of Southern Maryland will offer you the support you need during this troubling time.
If you are in need of mold removal or water damage restoration services, call the experts at 911 Restoration of Southern Maryland today for swift and supportive services!