Water Damage Restoration Services in Patuxent River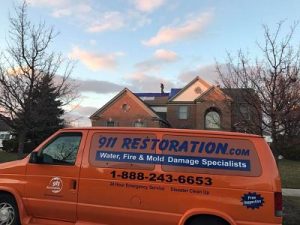 Situated in a scenic location on the Chesapeake Bay and located in close proximity to both Baltimore and Washington D.C., Patuxent River, Maryland is an ideal town for new home and retail storefront property owners to plant roots. Purchasing a new building for many people can be an exciting time, as your building is probably the biggest asset you own, and a great investment. However, there are many new responsibilities that commercial and residential property owners are challenged with when they receive their new set of door keys to their building. Their new investment is now their biggest responsibility and any damage that happens to it from a house flooding, severe storm, or pipe burst is theirs to clean up and repair. Thankfully, when property owners are in need of quick and efficient water damage restoration services, there is a water extraction company that can swiftly get the job done. With 24/7/365 availability and a 45-minute response time, 911 Restoration of Southern Maryland is your hometown water removal company.
Water Damage Restoration Facts Patuxent River Property Owners Should Know
Being in need of flood cleanup services is every property's owners' worst nightmare. Having to make tough choices during a highly stressful situation can lead to feelings of fear, panic, and even anger. 911 Restoration of Southern Maryland's licensed, bonded, and insured team of expert water damage inspection technicians want to help and educate the public on some need-to-know facts about water damage restoration:
The Kind of Flood Water Is Important: There are three types of water that can invade commercial or residential properties, including fresh water, rain water, and sewer water. Depending on what category of water floods a home or retail building, flood cleanup efforts should be approached a different way. Thankfully, 911 Restoration of Southern Maryland has the tools and training to perform efficient and safe water extraction services to a building.
When the Water is Gone, the Trouble Isn't Over: It may seem tempting to exhale a sigh of relief once all of the water is gone from a property, but that doesn't mean that moisture, mold, and mildew aren't still lurking in the shadows. When flood water creep into walls or under floors, it can create a haven for fungi to blossom. 911 Restoration are also mold removal experts and can tackle any mold remediation job thrown our way.
Water Damage Will Get Worse with Time: If left unchecked, flood water will cause worse problems for Maryland property owners. Within only hours, water can discolor walls and warp floorboards. And within 24 to 48 hours, mold and mildew will start to appear.
For commercial and residential property owners whose buildings have been afflicted by flooding, be sure to call 911 Restoration of Southern Maryland right away. Whether the home is located across the street or across the county, we will be there within the hour, day or night.
Expert Mold Removal Services with a Sympathetic Touch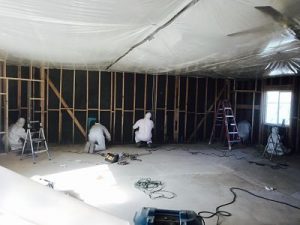 As we stated before, mold will start to grow in stagnant pools of water within the flooded building. While harmless and helpful outside, mold will cause numerous problems for property owners, including health concerns for children and elderly people and weakening the structural integrity of the building.
For Patuxent River building owners who need quick mold remediation assistance, look no further than 911 Restoration's team of mold decontamination experts. Our mold inspection and removal company can effectively extract every mold spore inside of a building safely and securely.
Additionally, we offer unwavering support to each customer we serve. 911 Restoration of Southern Maryland's 'fresh start' approach helps us to show property owners the silver lining of a scary situation. We offer them a new and fresh beginning after the mold remediation process is complete.
Other benefits of working with us include:
 

A free visual inspection for property owners only

 

A locally owned and operated team of professionals

 

Licensed, bonded, and insured water cleanup service company

 

Same day service

 

And much more!
For Patuxent River home and commercial property owners that need immediate water damage restoration and mold removal services from a local company that cares, call 911 Restoration of Southern Maryland today for a fresh new start!