Water Damage And Mold Removal in La Plata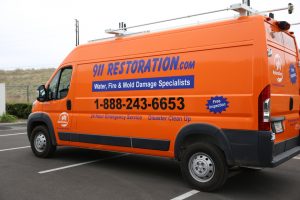 If you've got a flooded basement in La Plata, you've got an emergency. The same goes for a pipe burst, roof leak, storm damage, or any other incident flooding your property with water. Fortunately, the flood cleanup and mold remediation crew at 911 Restoration of Southern Maryland take your water damage incident as seriously as you do. They know the risks to your property and your wellbeing, and they work hard to give you comprehensive flood cleanup and fast solutions.
How fast?
Once you call 911 Restoration, the water damage restoration crew is at your door in 45 minutes or less, guaranteed. That's true even on weekends, holidays, and the dead of night. These flood cleanup experts are at your command 24/7/365. And once they arrive, they waste no time in water extraction, emergency boarding up, storm repair, and anything else you need to minimize damage and get back on your feet.
911 Restoration of Southern Maryland is licensed, insured, and bonded. Each and every flood cleanup professional is IICRC certified and extensively trained in water damage restoration and mold remediation. You only need this single contractor for every phase of the water damage restoration process, from water extraction to damage repairs. They even protect your property against long-term destruction with a thorough mold inspection and mold removal.
If you own property in Southern Maryland, you're never free from the threat of water damage and mold contamination. From blizzards and ice dams to tornadoes and summer storms, there is always a way for water to enter your home or business and destroy the world you worked so hard to build. Fortunately, you have a friendly, helpful neighbor right down the road.
For all your flood cleanup and mold removal needs, call 911 Restoration of Southern Maryland.
Comprehensive Water Damage Restoration In La Plata
Water extraction. Packing out and storing. Structural drying. Roof repair. Drywall replacement. Mold inspection. Mold removal.
These are all services that could be necessary following a single pipe burst, ice dam, flooded basement, or other water disaster. And this is by no means a comprehensive list. Water is challenging to control and acts quickly to seep into the structures of your home or business. It can rot your floorboards, create a breeding ground for mold in your carpet, and spread bacteria throughout the property.
The good news is that 911 Restoration of Southern Maryland is your one-stop shop for all your water damage restoration and mold remediation needs.
The flood cleanup staff is highly trained to manage any need your unique situation calls for. If you're not sure where your water is coming from, they're experts in leak detection. If your property requires sanitation after a toilet water flood, they've got that covered, too. Boarding up, storm repair, carpet removal…check, check, and check.
Once the water damage restoration crew has removed the water and repaired the source, they also take great care to dry the area and structure completely to prevent any avoidable mold growth. They test the structure for weakness or damage and repair any destruction they find.
Sometimes mold is unavoidable. For this reason, your flood cleanup workers conduct a thorough mold inspection, careful to check all the dark, hidden areas where mold tends to thrive. If the mold inspection leads them to a colony, they offer professional testing and follow up with safe, effective mold remediation. Once mold removal is complete, the mold decontamination workers use professional tools to dry out the structure, helping you avoid any additional mold remediation needs in the near future.
From pipe bursts to flooded basements, your water damage restoration needs may vary widely. But you can rest assured that the crew a 911 Restoration is prepared for every eventuality. For comprehensive water damage restoration, call today.
Will Homeowners Cover Water Damage?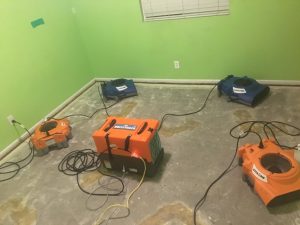 Whether you own a commercial or residential property, our friendly flood cleanup staff works with you to make sure you get all the benefits you are entitled to under your insurance coverage.
Because water damage restoration encompasses a variety of services, it's not always clear what your insurance covers. Will insurance pay for water extraction? Sewage removal? Mold inspection? Roof repair? Mold Remediation?
It's hard enough to make sense of insurance when you don't have a recent pipe burst or flooded basement causing additional stress. Add the worry of a soaked property, and focusing on a complicated insurance policy is a tall order. With 911 Restoration, you don't have to. Flood cleanup experts will review your policy and explain your coverage so you know exactly what to expect. They assist with loss itemization, file a claim on your behalf, and bill your provider directly. 
Just as important, 911 Restoration of Southern Maryland accepts all types of insurance, so you know you're covered even before you pick up the phone.
We understand how overwhelming it is to need water damage restoration or mold remediation in La Plata. Our technicians work hard to deliver instant peace of mind with clear communication, accommodating service, and comprehensive restoration. By the time they wave goodbye, you'll be standing in a home or business that feels just as fresh and clean as the day you moved in.
Don't lose another second to worry. Call 911 Restoration of Southern Maryland and look forward to a Fresh Start.
Servicing the cities of Accokeek, Aquasco, Avenue, Bel Alton, Bryans Road, Bryantown, Bushwood, California, Callaway, Chaptico, Charlotte Hall, Chesapeake Beach, Clements, Dameron, Drayden, Faulkner, Great Mills, Hollywood, Hughesville, Huntingtown, Indian Head, La Plata, Leonardtown, Lexington Park, Lusby, Mechanicsville, Nanjemoy, Newburg, owings, Patuxent River, Pomfret, Port Republic, Port Tobacco, Prince Frederick, Ridge, Saint Inigoes, Saint Leonard, Scotland, Sunderland, Tall Timbers, Valley Lee, Waldorf, Welcome, White Plains, and surrounding areas.