Water Damage And Mold Removal in Waldorf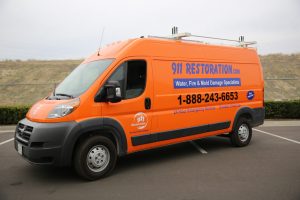 Whether it's a pipe burst, flooded basement, or sewage backup, a water incident can strike at any time. This is especially true in Waldorf, where the local climate brings the threat of water damage all year long. From blizzards and ice dams in the winter to storms in the summer, no property is safe from the possibility of water damage. Fortunately for anyone in need of flood cleanup in Waldorf or the surrounding area, the best restoration company is only one call away.
911 Restoration of Southern Maryland is staffed by expert flood cleanup specialists who are available 24/7/365. It doesn't matter when your pipe burst or other water disaster hits. Night or day, Wednesday or Sunday, someone will be there to answer your call. Our water damage restoration crew even guarantees an arrival time of 45 minutes or less. A shorter wait time means less damage to your property…and less worry for you.
The water damage restoration staff are all about providing you with peace of mind. That's why the professionals at 911 Restoration are all highly trained and IICRC certified, so you can be certain you're getting the best service available. They communicate clearly with you every step of the way and take every measure to ensure your property is left looking like it's never seen a second of water damage. The flood cleanup crew is so thoroughly trained they even handle all damage repairs, mold inspection, and mold remediation.
Wondering if your insurance covers water damage restoration? Believe it or not, the water damage restoration staff can even provide those answers, too. They offer a free insurance consultation so they can walk you through your coverage. As an added bonus, they help with loss itemization and file your claim for you.
Your friendly flood cleanup experts know how stressful a water damage event can be. Fortunately, they also know how to remove that stress. Don't drown in your worries. Call 911 Restoration of Southern Maryland for immediate peace of mind.
Emergency Water Damage Restoration In Waldorf
Sheer panic. That's what most home or business owners feel when facing a flooded basement, pipe burst, or other water disaster. You may feel frozen to the floor. You may feel like you can't act fast enough. You may feel like there's no chance your property will ever feel new again.
Don't worry we have a team of water damage restoration in Waldorf who are highly trained and IICRC certified. Making things new again is what 911 Restoration is all about.
The flood cleanup crew work with a powerful sense of urgency in an effort to minimize your damage and get you back on your feet as soon as possible. When they arrive at your property, they immediately set to work, packing out and storing any belongings that might be in harm's way. If the source of your water incident needs to be repaired or boarded up, they handle that promptly, then set to work with water extraction. Once the water itself is gone, the water damage restoration staff brings in professional fans to dry and dehumidify the structure of your home or business. They conduct mold inspection and structural testing to make sure your property is still standing strong. If they discover any weaknesses, they make the necessary repairs to leave your property standing strong.
The flood cleanup professionals pride themselves on providing comprehensive service. This means leaving your home or business in better-than-new condition. They are experts in full property restoration, capable of handling everything from roof repair to carpet replacement. They even manage mold decontamination. 
Our technicians believe every property disaster is really an opportunity for a Fresh Start. Call 911 Restoration of Southern Maryland and look forward to your new beginning.
Basement Mold Removal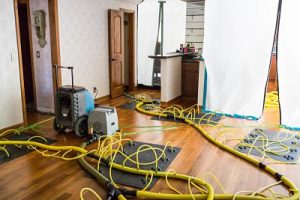 When water damage strikes, it's hard to keep mold at bay. Mold spores only need 24 hours of contact with a damp surface to create a thriving colony. This is why your water damage restoration crew always concludes flood cleanup with a thorough mold inspection and, if necessary, mold removal.
Mold thrives in dark, damp places, making a flooded basement especially vulnerable to infestation. Concrete soaks water up like a sponge, and that water can gradually creep back up to the surface, creating a healthy breeding ground for mold. 
Whether your water damage involves a flooded basement or a pipe burst three stories up, you can trust that the mold remediation experts at 911 Restoration know exactly where to look for an effective mold inspection. When they find a colony, they handle mold removal carefully and completely, even using professional tools to dehumidify the structure where the growth was discovered. Structural drying is an essential aspect of the mold remediation process, as it helps prevent future growth. 
If you've already had water damage restoration performed by another company but mold remediation was not included in your services, it is highly recommended that you seek out a mold inspection specialist right away. Water damage frequently leads to an infestation, and the longer you wait on mold removal, the greater the damage will be. Not to mention, delayed mold remediation may pose a threat to your health, as certain species of mold are toxigenic.
Water damage can be complicated and extensive, but you've got nothing to worry about. 911 Restoration is standing by, ready and waiting to support you with the best water damage restoration and mold remediation in Waldorf. All you have to do is call.
Servicing the cities of Accokeek, Aquasco, Avenue, Bel Alton, Bryans Road, Bryantown, Bushwood, California, Callaway, Chaptico, Charlotte Hall, Chesapeake Beach, Clements, Dameron, Drayden, Faulkner, Great Mills, Hollywood, Hughesville, Huntingtown, Indian Head, La Plata, Leonardtown, Lexington Park, Lusby, Mechanicsville, Nanjemoy, Newburg, owings, Patuxent River, Pomfret, Port Republic, Port Tobacco, Prince Frederick, Ridge, Saint Inigoes, Saint Leonard, Scotland, Sunderland, Tall Timbers, Valley Lee, Waldorf, Welcome, White Plains, and surrounding areas.