Water Damage And Mold Removal in California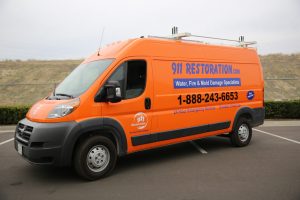 Rotting drywall. Contaminated carpet. Mold on the walls. These are among the many potential damages if water is allowed to linger on your property too long after a pipe burst, flooded basement, or other water disasters. That's why 911 Restoration of Southern Maryland treats water damage restoration like an emergency service. If you need flood cleanup in California or the surrounding area, you can call 911 Restoration anytime, day or night, every day of the year. A dedicated water damage restoration crew will be on the scene in 45 minutes or less, guaranteed.
Emergency Water Damage Restoration in California
The flood cleanup technicians have been highly trained in water damage restoration, mold inspection, and mold remediation. Whether you need emergency boarding up, sewage removal and sanitation, structural repairs, or mold removal, they can cover it. They approach every job with the goal of providing peace of mind, superior service, and a Fresh Start for you and your property.
This crew knows how overwhelming a water incident can be. That's why they bend over backward to make the process of water damage restoration as smooth and transparent for you as possible. They work with all insurance providers and even offer a free insurance consultation to help you make sense of your insurance coverage. You go into the flood cleanup process knowing exactly which services are covered by your plan, from structural drying to mold remediation. The water damage restoration staff also takes additional steps to ensure you get the coverage you are entitled to by assisting with loss itemization, filing your claim, and billing your provider directly.
Water damage restoration can seem like a daunting undertaking when you're unexpectedly standing in a flooded basement. Just know that you're not in this alone. For quality water damage restoration in California, call 911 Restoration of Southern Maryland.
Emergency Flood Cleanup And Carpet Drying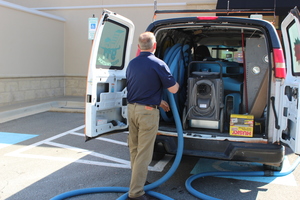 If you have a water damage emergency, you need a flood cleanup crew who responds to your disaster as urgently as you do. You'll find this kind of drive and compassion in the water damage restoration technicians at 911 Restoration.
From the moment this crew arrives on the scene, they leap into action. They've dealt with a lot of flood cleanup in California. Whether you have roof damage or a flooded basement, know that we are here to help. 
The water damage restoration workers protect your belongings during flood cleanup by promptly packing them up and storing them away. After all of the water has been removed from the area, they bring in heavy-duty fans to dry and dehumidify the property. This helps prevent a mold infestation, hopefully sparing you the cost of mold removal later on.
From the beginning to the end, we will walk you through every step of the process.  We communicate every step of the way. You'll know exactly which services will be performed, what the potential costs will be, what your insurance covers, and why each service is necessary. The crew at 911 Restoration champions your peace of mind above all else, and they work hard to earn your trust.
If you need assistance following a pipe burst, flooded basement, or any other water disaster in the California area, call 911 Restoration of Southern Maryland today.
Mold Remediation Experts In California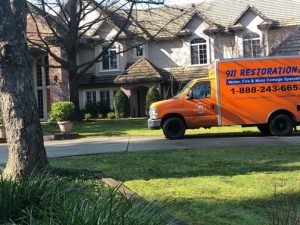 The flood cleanup technicians include mold inspection as part of water damage restoration for one very simple reason:
Water damage almost always leads to mold.
Additionally, mold from water damage often thrives in hidden places such as sheetrock, within your walls, and on the ceiling. If an infestation remains undiscovered, you're likely to have major damages down the road. Not to mention, certain species of mold are toxigenic and present risks to your health without prompt mold decontamination. Needless to say, if you've had water damage, you need a mold inspection from a certified expert.
You can count on the IICRC-certified experts at 911 Restoration to uncover any hidden infestation with a complete mold inspection. They have the training and tools to manage mold removal safely and effectively. They even complete their work with structural dehumidifying to prevent future growth.
For flood cleanup or mold removal in California, there's clearly only one restoration contractor to call. Reach out to 911 Restoration of Southern Maryland, and we'll be there in 45 minutes or less.