Water Damage and Mold Removal in Prince Fredrick
If you need mold remediation or flood cleanup in Prince Frederick, you wouldn't be the first. Our beautiful community of Southern Maryland comes with some unpredictable and extreme weather patterns. Storms, blizzards, and floods can mean big trouble for local properties… to say nothing of run-of-the-mill water disasters like pipe bursts and sewage flooded basements.
Whatever you're going through, you can turn to 911 Restoration for compassionate, expert service. We even provide 24/7 water damage restoration with a guaranteed arrival time of 45 minutes or less. To us, you're more than another invoice. You're a neighbor. That's why we do all we can to deliver peace of mind and the very best in flood cleanup and mold removal.
Our standards are undeniably high. Every water damage restoration technician on staff has successfully completed rigorous training. They are IICRC certified in property restoration and have vast expertise in everything from sewage removal to roof repair and mold decontamination. Our flood cleanup staff takes every pipe burst and flooded basement personally, approaching your water crisis as if it were their own.
To make things as easy as possible, we work with all insurance providers and offer a free insurance consultation. During this consultation, a water damage restoration expert explains which services you need and which are covered by your policy. You don't have to go into the flood cleanup process wondering if you'll be stuck with the bill for drywall replacement or mold removal. You know exactly what to expect from Day One. You can even rely on the water damage restoration staff for help with loss itemization and claim filing.
No matter what you're going through today, we promise there's a Fresh Start on the other side. All you have to do is call 911 Restoration of Southern Maryland today.
Residential and Commercial Water Damage Restoration in Prince Frederick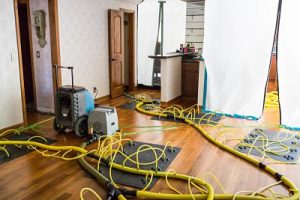 A pipe burst, sewer backup, flooded basement, or any other water disaster means different things for different properties. If you're a homeowner, water damage is an interruption to your daily life. It complicates your budget and makes a beloved refuge feel like a contaminated area. If you're a business owner, a water invasion threatens your bottom line, complicates your relationship with clients, and puts your employees' health at risk
In either scenario, a water incident is an emergency. Fortunately, you can depend on 911 Restoration no matter what.
Our water damage restoration staff has extensive experience providing water clean up service to homes and businesses alike. Whether your property is a historic house or a massive office space, we've got you covered.
We provide emergency services such as boarding up, storm repair, and water extraction for flooded basements. But beyond the structural drying and sewage removal typical of most water extraction companies, we offer full property restoration. Our technicians don't consider their flood cleanup job complete until your home or business is in top condition. That means replacing and repairing compromised materials, conducting a thorough mold inspection, and taking care of all mold decontamination needs.
If you choose 911 Restoration as your go-to water removal company, we promise to do more than get you up and running again. We'll leave you with a property that feels like home and inspires the trust of your clients.
Don't settle for less than excellent. Call 911 Restoration of Southern Maryland. Your Fresh Start will arrive in 45 minutes or less.
Safe and Effective Mold Decontamination
A mold infestation can cause major stress for any property owner. Not only does mold eat away at the structure of your home or business, but it also poses a variety of risks to your health. If you need mold remediation in Prince Frederick or the surrounding area, there's no need to worry. Our mold inspection experts can give you the peace of mind you're looking for.
Our mold remediation workers are relentless when it comes to mold inspection. They are not satisfied until they are certain they have discovered every hidden infestation. With these professionals handling your mold inspection, you can rest assured that you'll have a mold-free property by the time the mold remediation crew leave your home or business.
Thanks to extensive training, the mold removal technicians are more than prepared to handle mold decontamination safely. You may already know that many species of mold release airborne particles that are harmful to your health. Our mold remediation staff take precautions to ensure safe mold removal, so you can once again breathe easy in your home or business. Then, just to be certain you and your property are protected from the threat of future contamination, your mold removal crew dehumidifies the structure where mold grew. This means they leave your property dry as a bone, so any mold spores remaining in the air have no damp place to land.
As daunting as a mold infestation may seem, a safe solution is only one call away. For the very best in mold remediation, call 911 Restoration of Southern Maryland.
Servicing the cities of Accokeek, Aquasco, Avenue, Bel Alton, Bryans Road, Bryantown, Bushwood, California, Callaway, Chaptico, Charlotte Hall, Chesapeake Beach, Clements, Dameron, Drayden, Faulkner, Great Mills, Hollywood, Hughesville, Huntingtown, Indian Head, La Plata, Leonardtown, Lexington Park, Lusby, Mechanicsville, Nanjemoy, Newburg, Owings, Patuxent River, Pomfret, Port Republic, Port Tobacco, Prince Frederick, Ridge, Saint Inigoes, Saint Leonard, Scotland, Sunderland, Tall Timbers, Valley Lee, Waldorf, Welcome, White Plains, and surrounding areas.