About Our Water Restoration Company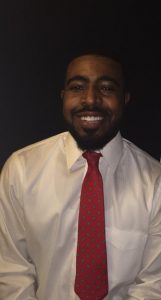 Branch owner Darius Stokes lives in Waldorf, MD and connects with the community through his restoration company, 911 Restoration of Southern Maryland. He has spent years restoring homes and businesses in the area and making sure the experience ends with a smile for each and every residential and commercial property owner. Having earned his stripes working with industry leaders, he decided to take the next step in providing excellent customer service and professional disaster restoration services by creating 911 Restoration of Southern Maryland.
Darius spent his early years learning the restoration ropes, from the right water removal equipment for the job to completing all the certificates for water restoration, fire damage restoration, smoke removal, and mold remediation. Combined, Darius and his team have over 30 years of experience to put to work recreating your perfect property.
As he acquired the knowledge and skills needed to venture out on his own, he realized there was a need for a specialized restoration company, one that specialized in taking care of the company. Around the same time he discovered 911 Restoration – the Fresh Start Company. Their mission was to provide communities with safe, professional, and timely restoration services while keeping the focus on the customer, paying attention to their needs and their concerns.
Our Team Is Here To Take Care Of Your Fresh Start after Property Disaster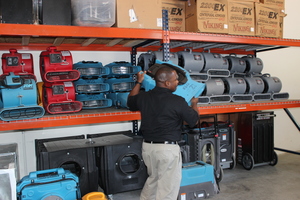 The Waldorf water restoration company is made up of a small, yet determined team that is dedicated to proving just how much good they can do for the people of Southern Maryland.
Whether you are a commercial property owner who needs fire damage restoration, a smoke removal, or a home owner who calls for water damage restoration and mold removal, Darius and his team have the skill, talent, experience, and equipment to get your life back on track quickly.
With the professionalism of a season veteran in the restoration industry, Darius also keeps a family atmosphere in his company. He wants the customer to feel relaxed and comfortable through the trying time. Beyond treating customers like family, Darius and his fiance Micha give back to their community in much the same way.
We Do Whatever It Takes To Give You A Fresh Start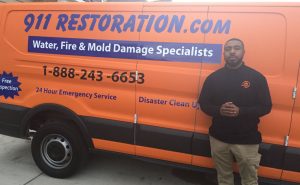 When your home or business has been affected by a disaster, Darius wants to be the first person the people of Waldorf call. He guarantees that his crew will arrive within 45 minutes of receiving your call, ready to get to work on your water emergency.
Darius also understands that a disaster can happen at any given time and he wants to be able to assist you whenever that time may occur, so he keeps his repair workers available 24/7/365.
He even works with IICRC certified technicians to ensure that you get the best service possible. So, call Darius and his water damage Waldorf pros and they will give you the opportunity to get that fresh start that only 911 Restoration can provide.