Mold Remediation in Waldorf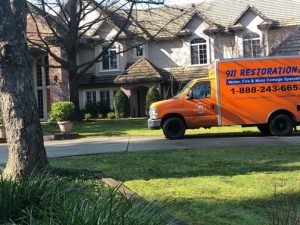 Mold has one job: to decompose organic material. That means if there's an infestation in your home or business, you're dealing with a fungus that's dead-set on destroying your property. The good news is, that if you need mold remediation in Waldorf, you have a quick and complete solution right at your fingertips. 911 Restoration of Southern Maryland is ready and available to take care of your mold problem. We think of everything so that your only job in mold remediation is to call our mold cleanup technicians at 240-813-1810.
The hard-working mold decontamination staff are IICRC certified, highly trained, and guaranteed to serve you with care. They invest every effort towards ensuring your peace of mind. This means clear communication, total restoration, and holding themselves to a high standard.
No thanks to the year-round wet weather of Southern Maryland, local property owners are in a constant battle against mold. Whether you've had a serious water damage incident or a minor leak, any moisture is almost certain to attract mold spores and create a welcome breeding ground for fungus. The mold remediation experts at 911 Restoration have seen it all, from small infestations to major destruction, and they're prepared to handle whatever needs your unique situation calls for.
What To Expect From Our Mold Remediation Specialists
First, our team conducts thorough mold inspections to ensure every colony has been found. Then, they'll manage mold removal quickly and safely. Finally, our expert team will use professional tools to dry out the structure where mold grew, and they even repair damaged surfaces and structures, whether that means tearing out carpets or replacing drywall.
Your dedicated mold cleanup crew knows they can't really call it to mold remediation if any damages are left behind. That's why they leave no stone unturned in their effort to transform your contaminated home or business back into the beautiful, healthy property it once was.
For the best in mold remediation, contact 911 Restoration of Southern Maryland today at 240-813-1810. 
Certified Mold Inspection In Waldorf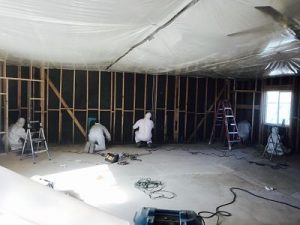 Even if you can clearly see mold in your basement, in your walls, or on your ceiling, it's still important to have a certified professional conduct a mold inspection. 
Mold reproduces by releasing spores into the air. These spores travel easily through air ducts and on clothing and people. All they need to start a colony is 24 hours on a damp surface. This means if you have mold in one area of your home or business, that colony could easily spread to another area. Not to mention, mold does its best to thrive in dark, hidden areas. 
911 Restoration of Southern Maryland knows where to look for mold and can recognize all the signs of an unseen infestation. You can trust that if you have a hidden colony, their mold inspection will uncover it. If a mold inspection does come back positive, we'll take a sample for third-party laboratory mold testing. Once they know exactly what type of mold you have, they strategize a safe and effective mold decontamination plan to make your property clean and healthy again.
Don't risk a neglected infestation. Call 911 Restoration of Southern Maryland for a professional mold inspection. Our number is 240-813-1810 and we will answer your phone call no matter the time of day.

Mold Remediation Is Part Of Water Damage Cleanup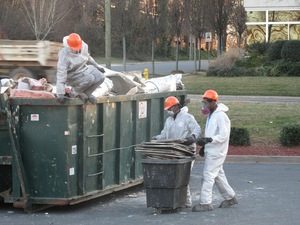 Mold contamination is so prevalent in Southern Maryland because so many properties are hit with water damage. From a flooded basement to a mysterious wall leak, any unwanted moisture can quickly become a safe landing place for mold spores.
The process for truly restorative mold decontamination includes a mold inspection and a careful mold removal strategy. Once mold removal is complete, the technicians bring in professional tools to dry out the structure of your property. This makes it harder for mold to return. Finally, they test your structure for weakness and damage. Whatever problems they find, they repair. It's that simple. All you need is one contractor to make your home or business new again.
Get The Fresh Start You Deserve
That's what we're all about at 911 Restoration of Southern Maryland…making things new. For mold removal in Waldorf or the surrounding area, reach out to our friendly mold decontamination staff. They'll give you a Fresh Start. Call us at 240-813-1810.

911 Restoration of Southern Maryland is a leading expert in water damage restoration as well as mold remediation. This means our IICRC-certified mold cleanup technicians understand the myriad ways in which water damage leads to mold infestation. They know how to conduct a mold inspection to ensure any colonies resulting from water damage are found. 
Servicing the cities of Accokeek, Aquasco, Avenue, Bel Alton, Bryans Road, Bryantown, Bushwood, California, Callaway, Chaptico, Charlotte Hall, Chesapeake Beach, Clements, Dameron, Drayden, Faulkner, Great Mills, Hollywood, Hughesville, Huntingtown, Indian Head, La Plata, Leonardtown, Lexington Park, Lusby, Mechanicsville, Nanjemoy, Newburg, Owings, Patuxent River, Pomfret, Port Republic, Port Tobacco, Prince Frederick, Ridge, Saint Inigoes, Saint Leonard, Scotland, Sunderland, Tall Timbers, Valley Lee, Waldorf, Welcome, White Plains, and surrounding areas.