Home Restoration vs. Remodeling – What's the Difference?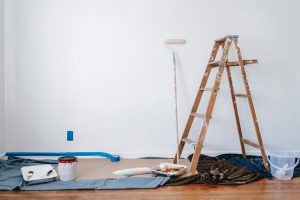 Both home restoration and remodeling refer to making improvements to the house. However, they are two completely different terms. Home restoration refers to bringing the house back to its original condition, while remodeling means changing the structure and appearance of the house.
Whether you are here to enhance your knowledge regarding different types of construction or you want to get some work done in your house but are not sure of the right words, we are here to help you learn more about the difference between home restoration and remodeling.
What Is Home Restoration?
Restoring a house means working to bring it back to its original condition, or its condition at a particular time. Restoration applies mostly to historic buildings to preserve the original design of the buildings. From replacing the old pipes to bringing back your 80s kitchen to its former style and refinish wood floors, there's a lot that goes in the restoration process.
However, historic buildings are not the only common sites for restoration projects. Restoration companies also work to restore homes and commercial properties to their original condition to protect and preserve properties after fire, water damage, mold, and other types of emergencies.
What Is Remodeling?
Remodeling on the other hand means changing the structure of a room or an entire building. It involves changing the use of space and improve functionality. In simpler words, whenever you are hiring a builder for remodeling your house, you are completely transforming the layout, structure, and appearance of it.
If you are renovating your kitchen, you are repairing or updating it, but if you are remodeling your kitchen, you are changing its structure and appearance. It's a more detailed and thorough process than renovation and restoration as it involves changing the entire structure and layout of the building. Remodeling is also considered better for solving the poor design problems of a house.
Shedding Light on the Process of Remodeling
Whether you are hoping to remodel your washroom or improve the appearance of your entire house, keep in mind that the main difference between home restoration and remodeling is that remodeling is less time-consuming than home restoration.
Remodeling contractors work to bring a client's vision into reality.
They sit down with the clients to create realistic expectations and create a plan to meet the budget requirements. Before starting the project, the client and contractor sit down to figure out how much of the property the clients are willing to remodel.
A key part of the remodeling process is picking a design for the house. Make sure you don't pick something that you will most likely change after a year or two. They then hire handymen and other resources to start the project.
Once your plan is in place, the time of demolishing your house arrives. After the demolition, plumbing and electrical inspectors arrive to inspect the location and ensure that the property has up-to-date systems.
Then, the drywall process begins where the handymen apply drywall compound and sand it smooth after it dries. After that, the painters start painting the walls to breathe new life into your rooms.
After that, they install doors, cabinets, bulbs, showers, and toilets. Finally, the contractors move to install the floor, give your property the end finishes, and nail door frames and baseboards.
Understanding the Process of Home Restoration in Detail
Whether you want to restore your property after fire damage or bring it back to its former condition after water damage, it's better to call home restoration experts if you want to move back into your house in no time.
Restoration is less energy-consuming than remodeling because the structure is already in place and you just have to repair it rather than changing its layout. You most likely know by now that home restoration companies work to preserve historic buildings and ensure that they maintain the building's character and retain as much of the building as possible. However, they are also the first responders following damage to a property from natural disasters and other events.
After water damage, home restoration experts arrive at the location to assess the property and take quick measures to restore it to its pre-damaged condition. After assessing the property, home restoration companies remove water either by pumping or using other specialized and advanced equipment. A key part of water damage restoration is to determine how to dry the property. For this purpose, home restoration experts use air movers to help dry out the property.
Fire and Smoke Damage
According to National Fire Protection Association, there are more than 350,000 residential fires each year in the US. Home restoration experts offer quick fire and smoke damage restoration. They arrive at the location to assess the property and take quick measures to secure the property and remove debris. To prevent further damage, they plug up holes and weakened structures. They then work to remove smoke and soot from the house, air out the moisture and sanitize the property.
Sewage Backup and Cleanup
Most home restoration companies also offer sewage removal and sewage backup cleanup services. The experts remove saturated carpeting and flooring and wash down the property with hot water. They use specialized air movers to dry out the area and also offer sanitization services to prevent the spread of microbes.
Looking for Home Restoration Experts in Southern Maryland?
If you are on the lookout for a trusted home restoration company that will quickly arrive at the location and work to bring your life back to normal, don't forget to check out 911 Restoration of Southern Maryland. They are backed by a skilled team that is available 24/7/365 to offer you comprehensive services.