Water Damage and Mold Removal in Saint Marys County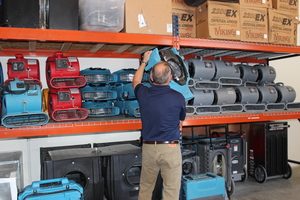 When everything is running efficiently, your property is in good shape, and there are no problems it can be a wonderful feeling. However, property damage can occur out of nowhere which is when emergency restoration services become necessary. One of the most common forms of property damage is water damage. Water damage can happen because of a previously unknown leak or a burst pipe in the middle of winter. The good news is that water damage restoration is only a phone call away. Call the water restoration team at 911 Restoration of Southern Maryland and we'll be there within 45 minutes of receiving your call.
The damage potential from water cannot be understated. Water damage has an immediate impact on your property by damaging your floors, furniture, appliances, and it can even affect your walls if left unattended for too long. The source of your water damage will determine the overall impact to your property, but the sooner your water restoration begins, the sooner you can minimize the lasting effects of the water damage.
Besides the initial damage, property owners also need to be concerned with secondary damage that occurs with water damage. Excess water creates a perfect breeding ground for mold. This is especially true if one of your rooms is hot such as a basement that has the heater residing in it. Like water, mold can deal significant damage to your property as well as your health. If you suspect mold, don't hesitate to contact the mold removal team at 911 Restoration of Southern Maryland to get started on your mold removal right away.

When disaster strikes, make sure to call your emergency restoration experts at 911 Restoration of Southern Maryland as soon as possible. All technicians are licensed, insured, bonded and IICRC certified. Whether you need help with water damage, mold removal, smoke restoration, or other restoration services we have you covered.
When it's Time for Water Restoration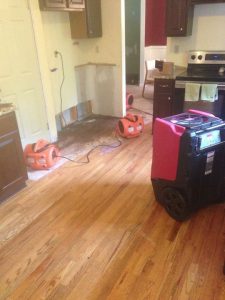 Whether the source of your water damage is small or large, water restoration is needed. Emergencies like this can happen anytime day or night, which is why our crew makes sure we are available 24/7/365 so that your water restoration can get started promptly. Within 45 minutes of your call, our crew will be there no matter if you are in Chaptico or in Bushwood.
Our first step in fixing your water damage is to make sure that the source has been stopped. Once that has been accomplished, we commence with a visual inspection and provide you with an estimate on what your water restoration will take. We are a full service operation. If we see that your drywall has been compromised, we will replace the entire section so that the integrity of your structure isn't compromised.
Taking Care of Your Mold Decontamination
Damp and humid environments is the natural habitat for mold. However, it can be difficult to stay on top of your entire property, which is why a mold infestation is usually not immediately noticed. Due to the difficulty in detecting a mold infestation, it can eat away at your property for a long time. That's why the second you suspect mold, make the call to get the mold removal experts from 911 Restoration of Southern Maryland out to begin your mold remediation.
If you discover a mold infestation, do not try to clean it yourself. Mold can cause health problems for people due to mold spores being able to go airborne. Headaches and breathing problems are the most common ailments people suffer from with mold. Our mold removal experts know that mold often starts in out of sight areas which is why we start with a thorough visual inspection to locate all sources of mold. In addition, we have the proper equipment to properly handle your mold decontamination with the least amount of risk to your health as possible.
911 Restoration of Southern Maryland is locally owned and operated which is how we are able to provide such a rapid response when emergency restoration services are needed. We proudly serve all of Saint Mary's county. In addition to our availability, with us you can count on the latest equipment and techniques to address your water damage as well as your mold removal so you know that your property will be like new before you know it.
Proudly serving Saint Marys County and the surrounding cities:
Avenue

Bushwood

California

Callaway

Chaptico

Clements

Dameron

Drayden

Great Mills

Hollywood

Leonardtown

Lexington park

Mechanicsville

Patuxent River

Ridge

Saint Inigoes

Scotland

Tall Timbers

Valley Lee