Mold Removal in Mechanicsville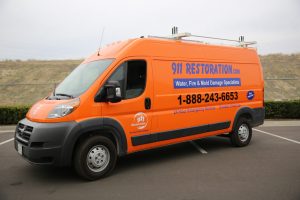 Did you know it only takes mold spores 24 hours to start a thriving mold colony on a damp surface? Or that there are over 100,000 species of mold, several of which can be very harmful to your health? And did you know that mold decomposes organic materials, including the material that makes up your walls, ceilings, and floors?
 Needless to say, even a minor mold infestation can have staggering consequences if you put off mold remediation. Fortunately, the process is incredibly easy for anyone who needs mold removal in Mechanicsville or the surrounding area. Just call 911 Restoration of Southern Maryland, and expert mold decontamination experts take care of the rest.
Our mold cleanup crew is staffed by IICRC certified mold removal experts. These workers have been highly trained to discover, identify, and eliminate your infestation. They handle every aspect of mold decontamination, from uncovering hidden colonies to structural dehumidifying to prevent future growth. They even include damage repair in the mold remediation process. If your infestation has destroyed any surface—from carpet to ceiling—these experts tear out what's ruined and replace it with newer, stronger material.
For property owners in Mechanicsville, mold can be nearly impossible to avoid. The year-round wet weather gives homes and businesses too many opportunities to soak up moisture, especially after a water damage incident like a pipe burst or storm damage. The mold remediation technicians at 911 Restoration have seen countless local property owners deal with the stress of mold damage, and they've learned that the ultimate key to customer peace of mind is a fully restored property.
At 911 Restoration, we don't just remove mold. We give you a Fresh Start. No matter how mold threatens your property, it's no match for 911 Restoration of Southern Maryland. Call today for the service you deserve.
Basement Mold Inspection In Mechanicsville
A thorough mold inspection is absolutely essential when it comes to effective mold remediation. This is especially true if you've recently had a water damage incident such as a flooded basement. Even your concrete floor absorbs water, holding it deep within only to later allow the moisture to rise to the surface and create a breeding ground for mold.
The mold removal experts at 911 Restoration are also certified water damage restoration professionals. They understand exactly how and where your home or business absorbs moisture. They know how and where mold is likeliest to grow. And they recognize all the tell-tale signs of a hidden infestation.
Even if you have a mold colony growing in plain sight, you still want the mold cleanup crew to conduct their own mold inspection. Mold spores travel easily throughout your property, and when there is one infestation, there are likely to be others. Trained mold decontamination experts find every trace of growth and handle mold removal throughout your property. This ensures you're left with a truly mold-free home or business.
When the mold inspection crew discover an infestation, they also take a sample of it to a third-party laboratory for testing. This is another effort on their part to give you peace of mind. Third-party testing gives both you and your dedicated mold remediation staff a clear understanding of which species of mold you're dealing with. Armed with this knowledge, the mold decontamination specialists can devise a mold removal plan that is safest and most effective for that specific species.
Mold is sneaky and complicated. But with 911 Restoration of Southern Maryland, you're never left to fend off an infestation on your own. Call for backup. Call 911 Restoration today to avail mold removal services in Mechanicsville.
Certified Toxigenic Mold Removal Company
If you're tempted to put mold remediation off just one more day, we encourage you to consider the risks to your health as well as the risks to your property.
 While it's never healthy to have a mold infestation in your home or business, there is an especially significant risk that comes with toxigenic molds such as black mold. A toxigenic mold contains mycotoxins that it releases into the air. When you inhale mycotoxins, they gather in your system and create a state of toxicity that can lead to allergies, dizziness, headaches, or even respiratory or heart issues.
Your safest option is to call on certified mold remediation specialist like 911 Restoration. Not only can a trained expert promise you a thorough mold inspection, but our mold cleanup crew is also qualified to handle toxigenic mold in the safest way possible. If you attempt mold removal on your own, you're likely to disturb the colony by scrubbing at it, causing the release of mycotoxins into the air and directly into your lungs. Not to mention, household cleaning products are not effective for mold decontamination, nor do they guard against a repeat infestation.
The mold remediation workers at 911 Restoration take great care to strategize mold removal based on your unique infestation. They use professional tools and insight to eliminate the colony without releasing excess spores and mycotoxins. They also dehumidify the structure where mold grew, ensuring that no more moisture rises to the surface, encouraging a second infestation.
These mold cleanup experts work hard to make sure your mold infestation is truly a thing of the past. If you need mold remediation in Mechanicsville, call the restoration company that doesn't rest until your property is better than new. Call 911 Restoration of Southern Maryland.
Servicing the cities of Accokeek, Aquasco, Avenue, Bel Alton, Bryans Road, Bryantown, Bushwood, California, Callaway, Chaptico, Charlotte Hall, Chesapeake Beach, Clements, Dameron, Drayden, Faulkner, Great Mills, Hollywood, Hughesville, Huntingtown, Indian Head, La Plata, Leonardtown, Lexington Park, Lusby, Mechanicsville, Nanjemoy, Newburg, Owings, Patuxent River, Pomfret, Port Republic, Port Tobacco, Prince Frederick, Ridge, Saint Inigoes, Saint Leonard, Scotland, Sunderland, Tall Timbers, Valley Lee, Waldorf, Welcome, White Plains, and surrounding areas.