Mold Removal in Lusby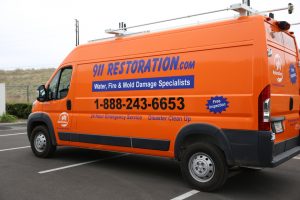 You've put countless hours, dollars, and energy into making your home or business the refuge it is. Whether your Lusby-based property is one where you gather with family or the embodiment of all your professional ambitions, that home or business is far more than a building. And if it's been struck by a nasty mold infestation, you deserve a compassionate, expert mold removal company who can make your place better than new again. You deserve 911 Restoration of Southern Maryland.
The mold remediation crew at 911 Restoration have vast experience handing mold cleanup in Lusby and the surrounding communities. From winter blizzards to spring storms, pipe bursts to ice dams, local properties are constantly absorbing unwanted water. Once mold spores discover a damp place to land, they only need 24-48 hours to produce a mold colony. And as you've likely already learned for yourself, mold spreads quickly.
Not to worry. Our mold cleanup experts have you covered. Every technician is IICRC certified and trained in every aspect of restoration. The mold remediation staff conducts thorough mold inspections. If you have an infestation, they'll find it. Once they find it, they handle mold removal safely and completely, even drying out the structure to discourage a repeat infestation. Has mold destroyed your ceiling, walls, or floor? No need to worry about that, either. These mold decontamination workers are trained in every imaginable aspect of mold damage repair. No matter the surface, no matter the material, they can repair and replace whatever has been destroyed.
As devastating as mold damage may seem, you're only one call away from a Fresh Start. Contact 911 Restoration of Southern Maryland and prepare to breathe easy again.
Commercial And Residential Mold Remediation In Lusby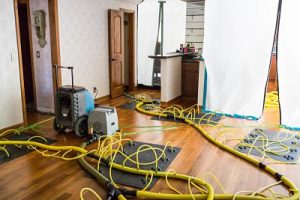 Mold is a serious issue, no matter what type of property you own. You can rest assured that when you call 911 Restoration of Southern Maryland, you're working with mold remediation professionals who are empathetic to your unique situation. If there's an infestation in your home, your family's health and the inviting atmosphere of your house are always top-of-mind for the mold cleanup crew. If it's a commercial property that's at stake, your dedicated mold remediation specialists work efficiently to prevent any unnecessary interruption to your operations and to eliminate any hazard to your clients' or employees' health.
Either way, with 911 Restoration, you can expect compassionate care and high professional standards.
First, the mold decontamination crew offers a thorough mold inspection to be certain every possible colony has been found. Because it's so easy for mold spores to travel throughout your home or business, they don't take it for granted that the only colony that exists is the one in plain sight.
If the mold inspection leads to discovery of an infestation, they take a sample of it to a third-party laboratory. The lab tests the sample to determine exactly what type of infestation you have. The mold cleanup experts then review this information with you and set up a mold removal strategy appropriate for your unique situation.
Once mold removal is complete, the crew uses professional tools to dehumidify the structure. They also make any necessary repairs, from replacing destroyed drywall to contaminated carpet removal.
Your dedicated mold remediation team does everything they can to put your life back to normal as soon as possible. Better than normal, in fact. 911 Restoration operates on the belief that every challenge is an opportunity to rebuild better than ever. If you need mold removal in Lusby and you're ready for a Fresh Start, reach out to 911 Restoration of Southern Maryland.
Why Choose A Certified Mold Removal Company?
It's fairly common for property owners to attempt mold removal themselves. In many cases, they've conquered mildew with great success, and the natural assumption is that mold removal can't be much harder.
The truth is that true mold decontamination requires far more than heavy-duty cleaning supplies. For one thing, scrubbing at a mold colony causes the infestation to release spores. This means that even if you get rid of all visible signs of the growth, you now have an excess of mold spores in the air, ready to land on the same surface. And because you don't have the professional tools needed to dry out the structure itself, those mold spores have a good shot at finding the moisture they need to get a new colony up and running.
Another important consideration in mold remediation is your health. Certain species of mold are toxigenic. This means they release mycotoxins into the air, and when you breathe in those mycotoxins, you are at risk of developing a wide range of health problems. If you have a toxigenic colony in your home or business, it's in your best interest to keep your distance and allow certified mold remediation experts to get rid of the infestation for you. If you try to handle mold removal on your own, you increase your health risks by putting yourself in close contact with a dangerous organism.
You can count on the mold cleanup crew at 911 Restoration to make your health a top priority in every phase of mold decontamination. To these professionals, you're not just a customer; you're a neighbor.
For mold inspection and mold remediation, choose the restoration company that genuinely cares. Choose 911 Restoration of Southern Maryland.
Servicing the cities of Accokeek, Aquasco, Avenue, Bel Alton, Bryans Road, Bryantown, Bushwood, California, Callaway, Chaptico, Charlotte Hall, Chesapeake Beach, Clements, Dameron, Drayden, Faulkner, Great Mills, Hollywood, Hughesville, Huntingtown, Indian Head, La Plata, Leonardtown, Lexington Park, Lusby, Mechanicsville, Nanjemoy, Newburg, Owings, Patuxent River, Pomfret, Port Republic, Port Tobacco, Prince Frederick, Ridge, Saint Inigoes, Saint Leonard, Scotland, Sunderland, Tall Timbers, Valley Lee, Waldorf, Welcome, White Plains, and surrounding areas.