Mold Removal in La Plata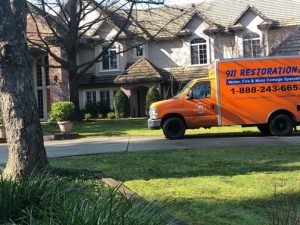 If you need mold remediation in La Plata, you're not the first, and you won't be the last. While Southern Maryland is an undeniably beautiful place to live, the wet weather puts properties at constant risk of mold contamination. Whether water has entered your property by way of a pipe burst, sewage backup, or storm damage, one thing is certain: you now have a potential breeding ground for mold. And you need a professional mold inspection and expert mold decontamination to make your property new again. Call us at 240-813-1810 and see how we can help you out.

You can find these services with 911 Restoration of Southern Maryland. Our mold cleanup technicians are IICRC certified and are true experts in the area of mold remediation. They have undergone extensive training to ensure they can offer every service you could possibly need to make your home or business better than new. Need a thorough mold inspection? They're on it. Do you require safe mold removal for a toxigenic growth? They have the tools and know-how to keep you safe. Has mold eaten away your ceiling, drywall, or floorboards? Your dedicated mold decontamination workers are even skilled in damage repair and surface replacement.
 Perhaps most importantly, you can count on the team at 911 Restoration to completely dry out the structure where mold was found, fortifying your property against the threat of a new infestation.
Worried about mold removal costs? You can rest assured that these specialists work at an affordable rate, and if your insurance covers mold remediation, they even help you file a claim to ensure you get the coverage to which you are entitled.
911 Restoration of Southern Maryland isn't just another restoration company. We're your ally in mold decontamination. Call today at 240-813-1810 and let our friendly experts reclaim your property for you.
Cleaning Mold From Water Damage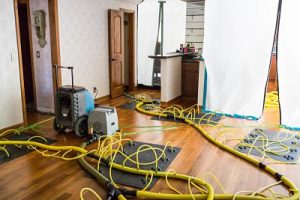 When there's mold, water damage is usually to blame. It doesn't matter if you have mold in your basement following a flood or mold inside your walls as a result of a small leak, the equation that caused the infestation is always the same. Mold spores plus damp surface equals mold.
This is why it's always important to order a mold inspection from a certified professional after a water damage incident. Even if you don't see any mold yourself, there could be a colony hidden in the dark corners of your home or business. Mold thrives in dark places, including behind walls, on sheetrock, and down pipes. The mold cleanup experts at 911 Restoration are also water damage restoration specialists. You can be certain they truly understand the relationship between water damage and mold behavior. If you have an infestation following any type of water incident, these professionals will find it with a thorough mold inspection.
Once they find mold, they have a sample tested so they know exactly how to proceed with mold removal. Mold cleanup does come with various risks, as disrupting a colony forces spores and mycotoxins into the air. Your expert mold remediation technicians come with both the knowledge and mold removal tools to minimize this risk and eliminate your infestation completely.
One especially crucial aspect of mold remediation following water damage is structural dehumidifying. The mold removal experts dry out the area where mold was discovered in order to prevent a repeat infestation. Without this step, you're likely to get caught in an ongoing cycle of growth and mold removal.
Finally, your dedicated mold remediation crew make any repairs necessary. Depending on your unique situation, this could mean carpet replacement, drywall repair, ceiling repair, or fixing any surface or structure eaten away by mold.
So often, the effects of water damage reach far into the future without proper remediation. 911 Restoration of Southern Maryland gets out in front of this problem with prompt mold inspection and mold removal. For full service mold decontamination in La Plata, contact us today at 240-813-1810.
A Trustworthy Mold Removal Company In La Plata
At 911 Restoration, our customer's peace of mind is always our number one priority. Whether you need water damage restoration across town or mold removal in La Plata, the technicians approach your specific job with the goal of helping you feel relaxed and encouraged by what the future holds.
This is why the mold remediation technicians perform every aspect of their job with total transparency. From offering a free insurance consultation to help you understand the cost of mold removal to communicating clearly about your mold remediation needs, they make sure you always understand exactly what is going on and why.
When they find growth as part of mold inspection, they even take a sample of that colony to a third-party laboratory for testing. Not only does this help them determine the best mold removal strategy; it also ensures you know the nature of your unique infestation based on unbiased, scientific testing.
Consider the technicians at 911 Restoration of Southern Maryland your partners in mold decontamination. You can count on these experts to truly work for you and get you the results you deserve. Call today for a Fresh Start at 240-813-1810.
Servicing the cities of Accokeek, Aquasco, Avenue, Bel Alton, Bryans Road, Bryantown, Bushwood, California, Callaway, Chaptico, Charlotte Hall, Chesapeake Beach, Clements, Dameron, Drayden, Faulkner, Great Mills, Hollywood, Hughesville, Huntingtown, Indian Head, La Plata, Leonardtown, Lexington Park, Lusby, Mechanicsville, Nanjemoy, Newburg, Owings, Patuxent River, Pomfret, Port Republic, Port Tobacco, Prince Frederick, Ridge, Saint Inigoes, Saint Leonard, Scotland, Sunderland, Tall Timbers, Valley Lee, Waldorf, Welcome, White Plains, and surrounding areas.