Mold Removal in Lexington Park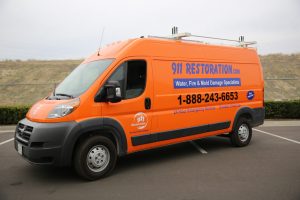 For such a small organism, mold can have a big impact on your life and work. When an infestation creeps into your home or business, you are suddenly at risk of property damage, health issues, and dangers to your family, colleagues, clients, or pets. Fortunately, mold remediation in Lexington Park is simpler than you might imagine. All you have to do is call the compassionate mold inspection and  decontamination experts at 911 Restoration of Southern Maryland, and they take care of the rest. Give us a call at 240-813-1810 and see how we can help you out.

Our mold cleanup professionals think of everything, from providing a thorough mold inspection to repairing the structural damages mold leaves behind. Where you understandably see a property disaster, these specialists see an opportunity to give you and your property a Fresh Start. You can count on them for fully effective mold removal as well as structural dehumidifying to help secure your property against a repeat infestation.
The mold remediation crew values your peace of mind above all else. That's why you can depend on them for the highest standard in mold removal service. They are IICRC certified, extensively trained, and ready to approach your mold infestation as if it were their own. They understand how a mold problem can derail your life or work, and they work hard and communicate clearly to make sure you don't have to worry one second more. The mold decontamination technicians even handle all repairs so you don't have to add a second contractor to your mold removal costs.
Mold is an undeniably destructive force. But with the right mold removal company on your side, you can have your pristine property back sooner than you think. Call 911 Restoration of Southern Maryland and let us give you a Fresh Start. Our number is 240-813-1810 and we will answer your phone call no matter the time of day.

Basement Mold Removal In Lexington Park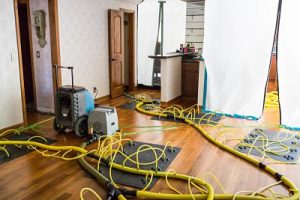 Worried about mold in your basement? You wouldn't be the first, and you won't be the last. Basements are especially vulnerable to mold growth for a few reasons. First, mold loves damp, dark places. Second, basements often get the worst of it when it comes to water damage, thanks to Lexington Park's wet climate. From sewage backups to storm damage to pipe bursts, nearly every property owner knows the stress of a flooded basement. And when your dark basement absorbs all that extra water, a mold infestation is almost sure to follow.
If you suspect you have mold in your basement or anywhere else in your home or business, call 911 Restoration for a professional mold inspection. The mold decontamination crew will examine the area completely, checking hidden-away areas like behind walls and on sheetrock. Once they've located and identified every colony of growth, they create a strategized plan for mold cleanup. The full mold remediation process includes mold removal as well as structural dehumidifying to prevent future growth. 
It's also possible that your mold has gone undetected for a long time. This is especially possible in a basement, an area of your home or business that is often dark and rarely used. When mold has plenty of time to thrive without mold cleanup, the organism eats away at the surface it lives on. This results in weakened structures, crumbling surfaces, and unsightly stains. The mold remediation technicians at 911 Restoration guarantee full restoration for your property. This means their mold decontamination process includes any repairs necessary to help you recover from a long-standing mold infestation.
When you choose 911 Restoration of Southern Maryland, you choose comprehensive service from a mold removal company that genuinely cares for you. Contact us now at 240-813-1810.
Inspecting For Toxigenic Mold
If you wait too long to tackle mold decontamination, you put your health at risk as well as your property. The risks are especially notable if your particular infestation is toxigenic. 
Toxigenic mold contains and releases mycotoxins which can then enter your body through your lungs. Your body can handle mycotoxins in small doses, but if you continually live with a toxigenic mold infestation, mycotoxins begin to build up in your system and create a state of toxicity. The results can vary, but none of them are good. Allergies. Headaches. Dizziness. Even respiratory issues and heart problems. It's clear why mold cleanup is necessary and urgent. 
That said, you should resist the urge to handle mold removal yourself. No matter what home remedies you've found online, you deserve to know that when a lay person attempts mold decontamination, they don't eliminate the infestation for good. Mold reproduces easily and quickly by releasing spores into the air. Certified mold remediation professionals like those at 911 Restoration have the tools and skills necessary to limit the spread of spores during mold removal. More importantly, they have fans to dehumidify the structure itself—the ultimate key to avoiding a repeat infestation.
You also should keep in mind the great risk of mycotoxins if you're considering conducting your own mold removal. The mold decontamination experts at 911 Restoration conduct a thorough mold inspection, then deliver a sample to a third-party laboratory for testing. The lab reports back on the specific species of mold, because that knowledge informs the mold cleanup process. A mold remediation expert won't remove a colony without first getting clarity on what type it is and whether it's toxigenic. This helps them make the best decisions so they can handle mold removal without filling your air with hazardous mycotoxins. On the flip side, if you scrub at the colony yourself,  you'll likely cause the mold to release mycotoxins into the air and directly into your lungs.
The IICRC certified mold remediation technicians at 911 Restoration have done extensive training so you don't have to think about any of this. For mold cleanup in Lexington Park and the surrounding area, just give us a call at 240-813-1810. We'll do all the careful strategizing. You just prepare to breathe easy once again.
Servicing the cities of Accokeek, Aquasco, Avenue, Bel Alton, Bryans Road, Bryantown, Bushwood, California, Callaway, Chaptico, Charlotte Hall, Chesapeake Beach, Clements, Dameron, Drayden, Faulkner, Great Mills, Hollywood, Hughesville, Huntingtown, Indian Head, La Plata, Leonardtown, Lexington Park, Lusby, Mechanicsville, Nanjemoy, Newburg, Owings, Patuxent River, Pomfret, Port Republic, Port Tobacco, Prince Frederick, Ridge, Saint Inigoes, Saint Leonard, Scotland, Sunderland, Tall Timbers, Valley Lee, Waldorf, Welcome, White Plains, and surrounding areas.