Mold Removal in Huntingtown
A mold colony can be a nasty thing, but you should at least know that your infestation has nothing to do with you. The success of mold remediation, however, has everything to do with which mold removal company you choose.
911 Restoration of Southern Maryland is staffed by IICRC certified technicians who have a strong track record of expert mold remediation in Huntingtown and beyond. These experts are all highly trained in mold inspection, mold removal, structural dehumidifying, and damage repairs. Just as important, they understand what you're going through and how to ease your mind with knowledgeable service and clear communication. Call us at 240-813-1810 and see how we can help you out.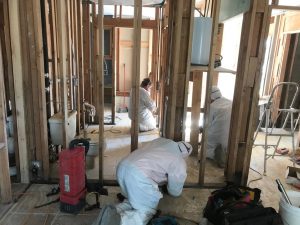 Mold infestation happens to nearly every property owner in Southern Maryland sooner or later. You can't keep mold spores out of your home or business; they're constantly in the air around you. That means that when an ice dam, pipe burst, storm, or tornado brings water into your home, mold spores are ready and waiting to land on a damp surface and create a mold colony. It hardly seems fair that you can keep a pristine property and still find yourself in need of mold remediation.
The mold cleanup crew at 911 Restoration are sympathetic to your frustration, and they take every measure necessary to be sure your contaminated property returns to the beautiful refuge you created. They handle mold removal in a way that is safe for you, your family, and your colleagues. They take preventative measures to ensure the infestation does not return. And they conclude mold remediation with structural and surface repairs, leaving your property in even better condition than before.
For a professional mold inspection and thorough decontamination, there is only one mold removal company to call: 911 Restoration of Southern Maryland, our number is 240-813-1810.
Expert Mold Inspection In Huntingtown
Even if you know exactly where your mold infestation is, you still need a mold inspection from a certified professional. Because mold spores travel easily through the air and on clothing, it's easy for an infestation to spread to other areas of your property.This is especially true if you've recently had extensive water damage, allowing the structure to absorb and hold moisture in multiple areas.
When our mold remediation experts conduct a mold inspection, they consider the conditions that led to your infestation so they can inspect based on mold behaviors. They look for signs of a hidden infestation, and they inspect dark corners where mold tends to thrive. If there is mold behind your wall, inside your ceiling, or in your carpet, they'll find it. 
If they discover an infestation during mold inspection, they take a sample and deliver it to a third-party laboratory for testing. This step is essential for a couple reasons. First, it offers you peace of mind, knowing that your unique situation has been assessed by an unbiased, scientific process. Second, it tells your mold decontamination technicians exactly which of the 100,000-plus species of mold has invaded your home or business. This information helps them design a safe and effective mold removal strategy.
Knowledge is power, especially when it comes to mold cleanup. The mold inspection crew at 911 Restoration take every step necessary to find every colony hidden in your property and identify it accurately. This ensures that their mold decontamination efforts leave you with a home or business that is truly mold-free, with limited risk of a repeat infestation in the near future.
For peace of mind and a Fresh Start, reach out to 911 Restoration of Southern Maryland today at 240-813-1810.
Toxigenic And Black Mold Removal
If you have a mold infestation, it's important to pursue mold remediation right away. In fact, it's a good idea to reach out to a certified mold removal company even if you only suspect you have mold. Not only does mold eat away at the surfaces of your home or business, it also poses health risks to the people and pets who occupy the space.
Certain species of mold are toxigenic. This means they fill the air you breathe with mycotoxins that can cause a wide range of health issues when inhaled. If you've been experiencing heightened allergies, dizziness upon waking up, frequent headaches, or any other unexplained health challenge, it may be time to order a mold inspection from a mold decontamination specialist like 911 Restoration of Southern Maryland.
If you know you have a hazardous infestation such as black mold or any other toxigenic species, do not attempt mold cleanup yourself. Not only are home remedies unlikely to be successful in the long term, but scrubbing at a colony puts you in direct contact with mycotoxins.
When your dedicated mold cleanup staff approaches a toxigenic infestation, they do so with professional tools and techniques that ensure effective mold removal without spreading an excess of mycotoxins throughout your property. Mold decontamination professionals also come armed with tools to dehumidify the structure itself, preventing released spores from finding a damp place to land and start a new colony.
Mold carries a wide range of risks, but the right mold cleanup experts know how to keep you safe. If you need mold removal in Huntingtown, call on the restoration contractor who puts your best interests first. Call our IICRC certified techs at 911 Restoration of Southern Maryland 240-813-1810.
Servicing the cities of Accokeek, Aquasco, Avenue, Bel Alton, Bryans Road, Bryantown, Bushwood, California, Callaway, Chaptico, Charlotte Hall, Chesapeake Beach, Clements, Dameron, Drayden, Faulkner, Great Mills, Hollywood, Hughesville, Huntingtown, Indian Head, La Plata, Leonardtown, Lexington Park, Lusby, Mechanicsville, Nanjemoy, Newburg, Owings, Patuxent River, Pomfret, Port Republic, Port Tobacco, Prince Frederick, Ridge, Saint Inigoes, Saint Leonard, Scotland, Sunderland, Tall Timbers, Valley Lee, Waldorf, Welcome, White Plains, and surrounding areas.